Rich Treats That Are Good For You
Posted on Feb 10, 2011 11:22 AM by Mary Fetzer
Dessert is one of the first things we give up when we're trying to eat and live healthier, but these luscious recipes are actually good for you... so leave room for dessert!
---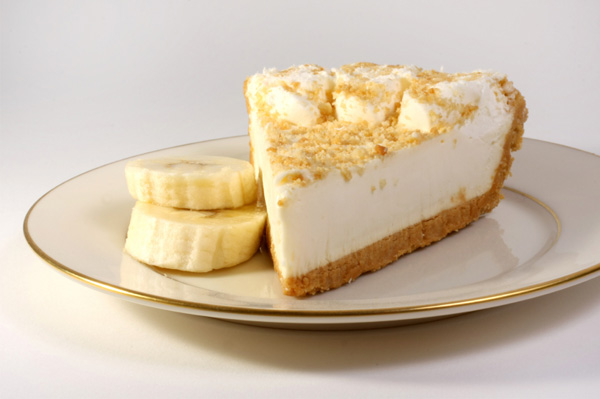 Vegan banana cream pie
Jasmine Kaloudis, a holistic lifestyle expert in Philadelphia, shares "the dessert I love that doesn't hate me." Who would expect something to "taste so luscious and creamy without butter, cream, sugar and other toxic stuff?"
Ingredients
1-1/2 cups cashews
1 cup pecans
1-1/2 cups pitted dates
1/5 cup water
7 tablespoons unsweetened coconut, divided
3 tablespoons maple syrup
2 tablespoons vanilla
dash of salt
2-3 bananas, cut up
Preparation
Soak cashews in water for at least 6 hours. Drain.
Mix pecans with pitted dates in a blender until smooth. Using your hands, form a crust for dough in a pie tin.
Mix cashews, 4 tablespoons coconut, maple syrup, vanilla and salt in a blender until smooth and creamy, using a spatula to scrape the sides. Pour into pie tin.
Add bananas on top of mixture and sprinkle with 3 tablespoons coconut. Enjoy!
Tip: The bananas will darken if the pie sits too long. You can prepare the other ingredients ahead of time and slice and add bananas immediately before serving.
Chocolate zucchini yogurt cake
Country music artist Cooper Boone shares his healthy alternative to traditional chocolate cake. "It's loaded with zucchini (skins on), and the yogurt adds a creamy richness and a boost of calcium," says Boone. "It's perhaps the best chocolate cake you will ever have."
Ingredients
4 ounces of unsweetened dark chocolate morsels
1/2 cup canola oil
2 cups all-purpose flour
1/2 cup unsweetened cocoa powder
2 teaspoons baking powder
2 teaspoons baking soda
1 teaspoon salt
1/2 teaspoon ground cinnamon
1/2 cup organic butter, softened
2 cups sugar
3 large eggs, at room temperature
2 teaspoons vanilla
1/2 cup yogurt
3 cups zucchini (with skins), grated
fresh raspberries and fresh mint for garnish
Preparation
Preheat oven to 350 degrees. Grease and flour two-9 inch cake pans.
On medium heat, combine chocolate and oil until thoroughly melted. Set aside.
Sift dry ingredients (except for sugar). Set aside.
Cream butter and sugar in a mixer on medium speed until fluffy. Add eggs one at a time. Add melted chocolate mixture followed by yogurt. Add dry mixture 1/3 cup at a time. Fold zucchini until fully combined.
Bake for 40 minutes on center oven rack or until a knife inserted into the cake comes out clean. 
Cool on racks. Drizzle blended fresh raspberries between and over layers. Garnish with fresh mint.
Zesty citrus dark chocolate milkshake
This rich tasty recipe from the Florida Department of Citrus is super-easy to make and actually good for you!
Ingredients
1/2 cup Florida orange juice
1 cup light chocolate ice cream
1/2 cup liquid unsweetened chocolate
1 teaspoon vanilla extract
1 tablespoon orange zest
lite whipped cream for topping
Preparation
Combine ingredients in a blender and blend to a smooth consistency.
Pour into large glass and finish by topping with whipped cream.
More heart-healthy citrus recipes >>
More healthy dessert recipes