Posted on Feb 10, 2011 11:54 AM by Elaina Verhoff
Hooray for laughter! Research shows that laughing lowers blood pressure, reduces stress hormones, triggers the release of endorphins, the body's natural painkillers and produces a general sense of well-being. Maybe that's why those side-splitting laughs hurt in a good way. So how do you add more laughter to your life? Here are 10 things that always make us LOL.
---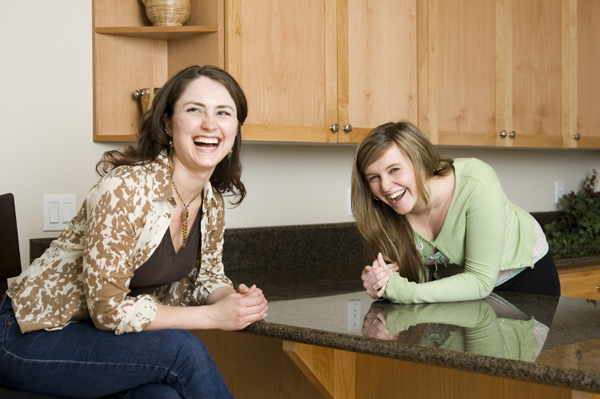 Go see a comedy show
A great comedy act makes us laugh so hard we cry. Check your local listings to see which comedians are coming soon, and surprise your loved one with tickets for two.
It features unlikely look-alikes, and quite honestly we can't get enough of the hilarious comparisons. Where else would you see that the Toyota Trucks logo totally looks like Frank Zappa's facial hair and Hosni Mubarak really does look like the Penguin? Very addictive.
 Watch a laugh-out-loud movie
Some of our best laughs come from a night at the movie theater. Just be careful not to inhale the popcorn!
One our favorites is Double Rainbow. It cracks us up every time.
 Tune into late-night comedy television
Conan O'Brien and Jon Stewart are two of our favorite comedians on TV. Of course we can't forget Saturday Night Live. We loved it when we were teenagers, and we love it even more now that we can snag it on the digital recorder and don't have to fall asleep halfway through the show.
Their spoof news articles and videos provide clever parodies of the news of the day. Hilarious.
 Get together with your funniest pals
The best laughter is shared with friends.
 Start laughing for no reason at all
Try looking at yourself in the mirror while doing it. You'll feel pretty silly, but soon you won't be able to stop. Plus, you'll enjoy all the health benefits of laughing – even if you're faking it!
 Try a laughter yoga class
It combines the deep breathing and relaxation of yoga with laughter exercises. Laughter Yoga starts with unconditional laughter (laughing for no reason) and turns into real and contagious laughter – sort of like laughing at yourself in a mirror, but with company.
 Get out some old photos
You won't be able to keep a straight face when you see your outdated fashions and hairdos. Big '80s hair and legwarmers anyone?
More on the benefits of laughter