Posted on Jul 01, 2011 8:54 AM by Kori Ellis
These side-splitting comedies never get old. You can watch them over and over again and laugh every time. Here are eight movies that always make us laugh.
---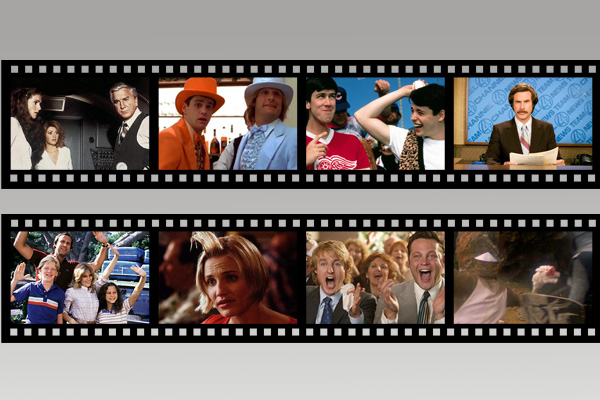 Airplane!
This 1980 satirical comedy is a spoof on the disaster film genre. Robert Hays and Julie Hagerty star, but the rest of the star-studded cast, including Leslie Nielsen, Robert Stack, Lloyd Bridges and even Kareem Abdul-Jabbar, make this film hilarious.
 Dumb and Dumber
This Farrelly brothers film follows the comical cross-country adventures of Lloyd Christmas (Jim Carrey) and Harry Dunne (Jeff Daniels). If you love slapstick comedy combined with gross-out humor, this movie has to be near the top of your favorites. Nobody will ever forget Lloyd and Harry's blue and orange tuxedos complete with matching top hats and canes.
 Ferris Bueller's Day Off
This 1986 comedy was directed and written by John Hughes. The premise is simple -- three kids skip school and spend the day in downtown Chicago -- but the dialogue is clever and funny. The film features many of Chicago's famous landmarks, Broderick's rendition of Twist and Shout atop a parade float and a rare 1961 Ferrari GT California.
 Anchorman: The Legend of Ron Burgundy
It wasn't a big box office smash but once Anchorman hit DVD, the popularity of this Judd Apatow movie skyrocketed. This film offers a tongue-in-cheek take on the then-new Action News format of the 1970s. Though this film is sometimes quoted too often, Will Ferrell, Steve Carell, Paul Rudd and everyone else in this gut-busting movie make it a must-see.
 National Lampoon's Vacation
Though this movie spawned many sequels, the original is still the best. Clark Griswold (Chevy Chase) and his family's quest to get to the amusement park Wally World is a storyline that always makes us laugh. This entertaining flick was written by the late John Hughes and features a memorable supporting cast that includes John Candy, Imogene Coca, Randy Quaid and many more.
 There's Something About Mary
The geek (Ben Stiller) reconnects with his high school crush (Cameron Diaz) and hilarity ensues. Who doesn't laugh at Stiller's "frank and beans" getting caught in his zipper or the drugging of Magda's (Lin Shaye) dog?
 Wedding Crashers
Divorce mediators John Beckwith and Jeremy Gray (Owen Wilson and Vince Vaughn) drop in on weddings for free champagne and food with one real goal -- to charm the women at the wedding for a one-night stand. This 2005 hit comedy was an instant box office success.
 Monty Python and the Holy Grail
No matter how many times you watch this classic comedy, it's still funny. Originally released in 1975, Monty Python and the Holy Grail stars John Cleese and the rest of the Monty Python comedy group. This movie spoofs the legend of King Arthur's quest to find the Holy Grail and is one of the most quotable movies of all time.
Tell us: What is your favorite comedy? Share in the comments below!
More on the benefits of laughter