Posted on Feb 12, 2011 12:33 PM by Daphne Butas
Whether you are still trying to shed the remaining holiday happiness pounds, or you're trying to get a jump-start on bathing suit season, now is the perfect time to shed those last five stubborn pounds.
---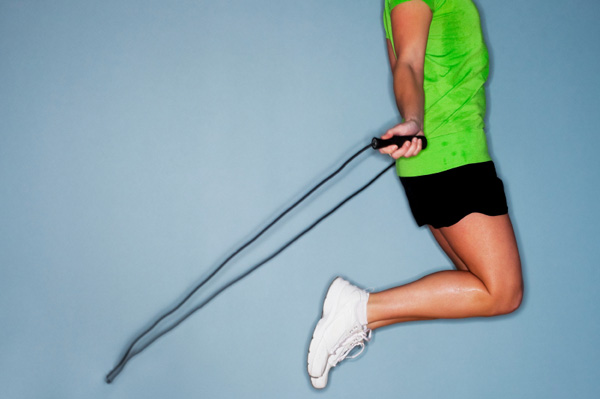 It's easy to make excuses for why you're not able to part with those extra pounds, but we spoke with numerous fitness trainers and health experts on this topic and discovered that even a few small changes can make a big difference and help you reach your goal.
Jump to it
Buy a jump rope, says Deveren Fogle, creator of the new MyGenius Trainer personal training app for the iPhone, iPad and iTouch. "Jumping rope is more efficient at burning calories than jogging and it tones the entire body. Plus, it's incredibly portable, easy on your joints and can be purchased for as little as $5." Now that's an easy way to sneak in 10-minute cardio sessions throughout your day.
"Losing five pounds is a realistic goal for almost anyone and can be achieved by following the three principles of weight loss exercise: Duration, frequency and intensity. To reach your weight loss goals, just increase the duration of your work-outs, the frequency of your work-outs and their intensity," says Jason Fitzgerald, coach and author of Strength Running.
Shed the pounds for good
Jessica Smith, a fitness lifestyle expert and creator of the 10 Pounds Down! DVD series offers her suggestions about easy ways to make small changes to your lifestyle that not only will help shed those five extra pounds, but also to keep them off for good.
Snooze to lose. Your body needs rest to recharge and fight off sickness and possible infections that could deter your fitness goals.
Eat homecooked meals whenever possible. "Eating out can have you consuming as much as 900 calories more per day than folks who make their meals at home."
Leave 15% of each meal on your plate. This helps train your body to not overeat and understand portion control better.
Eat an apple a day. "Adding an apple a day can make you up to 12 pounds lighter by the end of the year," says Smith.
"Eliminate dieting. Diets don't last forever. Commit instead to change your lifestyle habits by exercising more and eating a little less," says Jenny K Paulson, wellness director for Corporate Wellness by Gold's Gym and host of the television show called Fitness: fact or fiction? Realize that changes do not have to be drastic or life-altering to achieve results.
More diet tips and ways to lose weight