Posted on Feb 12, 2011 12:58 PM by Daphne Butas
While the air is still chilly with wind and snow flurries, it is all too easy to cover up your problem areas with bulky clothing and extra layers. Even though winter clothing can hide your backside, Punxsutawney Phil did predict an early spring this year, so it's best to get a jump start on tightening up your booty before the warm weather sets in and you are behind on your fitness firm-up.
---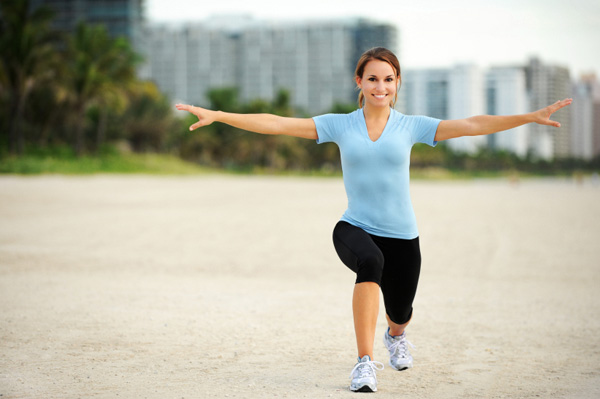 Fitness firm-up for your derriere
"To firm your booty, lunges and squats are your keys to success," says Michelle Blake, MS Exercise Physiology, certified personal trainer and founder of Blake Str3ngth, LLC. "However, to see your firm booty, you must also burn the fat or extra padding that covers the muscle underneath."
By combining the right exercises with a healthy diet, ample rest and plenty of water, you can tighten up your derriere just in time for bathing suit season. Here's what you need to do, according to Blake.
Do rigorous cardiovascular exercise three to five times per week.
Aim to do strength training at least two times per week on non-consecutive days.
Eat clean to fuel your work-outs. Cut out high sugar carbohydrates, like white breads, pastas and rice, and fill up on water, fruits, vegetables and lean proteins such as fish, turkey and chicken.
No gym required
Don't have a gym membership? "Not a problem," says Blake. "Try climbing the stairs in your office building or residence. Running or walking outside are also great ways to get a good cardio work-out in for cheap, as is biking."
Strength training supplies can also be purchased at sporting goods stores, online and at discount retailers like Target, making it easier than ever to work out in the comfort of your own home for a relatively inexpensive price.
Look online and help your bottom line
Online programs nowadays can also help you find exercise programs while steering clear of gyms. 
Mari Ann Lisenbe is the founder of one such resource called the MARI method. Her successful online fitness site has only existed for a year, but already it has helped two people lose over 100 pounds, one person lost 85 pounds and many others lose between 20-65 pounds. The MARI Method focuses a lot on quick tips, such as the ones listed below, that can be squeezed in during your most hectic of days.
Do squats for 30 seconds while drying your hair. 
Run in place - fast - for 30 seconds while watching the news. 
Tighten your butt while brushing your teeth at night.
The bottom line, according to Blake, "is that exercises for your butt alone will not get rid of unwanted body fat and firm your backside. Daily cardiovascular exercise, weight training and nutrition are a must!"
More butt-sculpting exercises for great glutes