Posted on Mar 04, 2011 11:15 AM by Naomi de la Torre
Do you love homemade pizza but find yourself ordering out all the time because it just doesn't seem worth all the hassle? This delicious golden pizza crust will melt in your mouth and it takes less than 15 minutes to prepare. So bust out your recipe books, because this one's a keeper!
---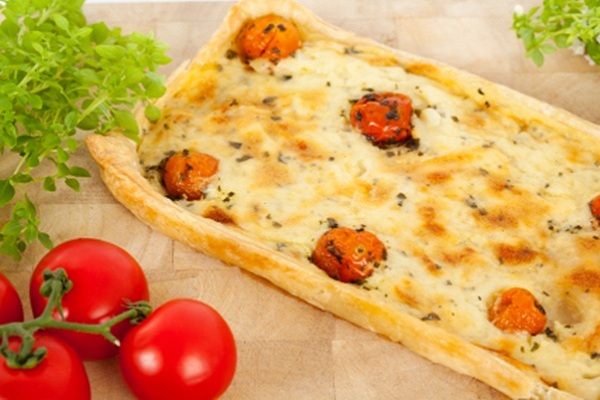 Ingredients:
1/3 cup sugar
2 1/2 packets of active dry yeast
2 cups warm water
1 teaspoon salt
2 cups flour
1/3 cup oil
3 cups flour
Directions:
In a large bowl, mix together the sugar, yeast, warm water, salt and 2 cups of flour.  This will make a goopy liquid dough. Stir well. Now let the dough rest for 10 minutes.
After the dough has rested, add the oil and the remaining 3 cups of flour. Turn the pizza dough onto a clean, dry surface that has been dusted with flour. Knead vigorously for 2 minutes until it forms a springy, elastic dough.
Divide dough into two equal pieces.
Roll dough with rolling pin into 2 large rectangular or circular crusts. Cover with sauce, favorite toppings and cheese. Bake at 350 degrees F for 20 minutes or until cheese is melted and crust is golden brown.
Serve warm. Swoon. Eat more. Fall into a deep pizza coma.
Repeat again tomorrow.
More pizza recipes: