Homemade Chicken Tortilla Soup
Posted on Mar 16, 2011 8:41 AM by Naomi de la Torre
Do you love the spicy goodness of a piping hot bowl of chicken toritilla soup? Learn how to make this delicious Mexican classic in your very own kitchen. Serve with delicious toppings like chopped avocado, jack cheese, sour cream and crunchy tortilla chips. Que rico!
---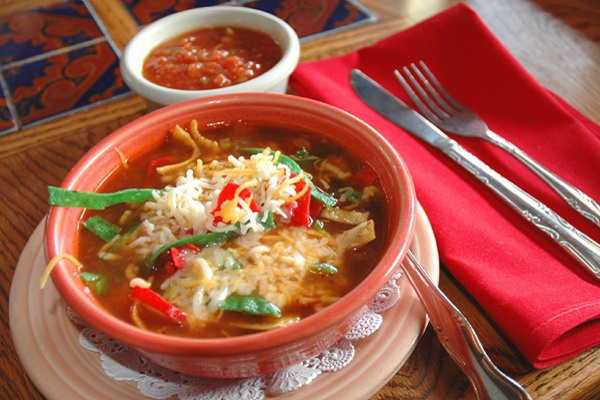 Ingredients:
1 batch homemade spicy salsa
12 cups of chicken broth (or 3 boxes of 32 ounces each)
4 boneless skinless chicken breasts, cubed
4 cups cooked white hominy (or 1 large can of 32 ounces)
4 cups cooked pinto beans (or 2 cans of 15 ounces each)
1 can El Pato brand tomato sauce
3 tablespoons tomato bouillon
1 tablespoon fresh ground black pepper
1 teaspoon chili powder
1/2 teaspoon freshly ground cumin
 Toppings:
8 ounces grated jack cheese
4 sliced avocados
1/2 diced red onion
1 cup sour cream
6 limes
1 bag corn tortilla chips
 Directions:
 Fill your large crock pot with all the ingredients listed above. (Set the toppings aside for later.)
Cook on high for 4 hours or until chicken cubes are thoroughly cooked.
Ladle into bowls and serve with assorted toppings of your choosing: a dollop of sour cream, grated jack cheese, a squeeze of lime, diced raw red onion, sliced avocado and tortilla chips. If you want a healthier version, omit the sour cream and switch out the tortilla chips for baked corn tortillas.
Makes 12 servings.
Enjoy!
More fun recipes:
How to make delicious honey wheat bread