Apple Walnut Muffin Recipe
Posted on Mar 28, 2011 9:56 AM by Naomi de la Torre
Looking for a simple recipe for breakfast muffins? With big chunks of fresh apples, walnuts, dried cranberries and whole wheat flour, these moist and delicious muffins are chock-full of healthy fiber for long lasting energy. So gear up for a great day with these fabulous and flavorful apple walnut muffins.
---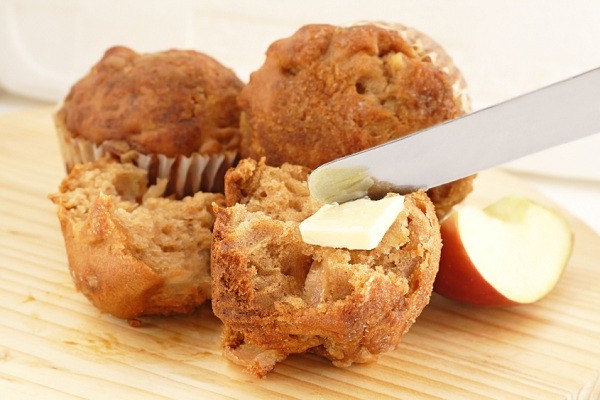 Ingredients:
1 cup unbleached white flour
1 cup whole wheat flour
1 cup vegetable oil
1 cup sugar
3 eggs
3/4 teaspoon salt
1 teaspoon baking soda
1 teaspoon cinnamon
1 teaspoon vanilla
3 large apples, cored, peeled and thickly chopped
1 1/2 cups chopped walnuts
1 cup dried cranberries
Directions:
Preheat oven to 350 degrees F.
Grease and flour muffin tin for 8 large muffins.
In a large bowl, beat the oil and sugar for 3 minutes. Add eggs and beat for 1 more minute on high.
In a small bowl, sift together flour, salt, baking soda and cinnamon. Add this mixture to the wet ingredients.
Mix in the apples, vanilla, walnuts and cranberries.
Gently scoop the batter into muffin tin.
Bake for 30 minutes or until knife comes out clean. Makes 8 large muffins.
Serve with butter or apple preserves.
More of our favorite Daily Delight recipes:
How to make delicious guacamole
How to make chicken tortilla soup