Best Pineapple Upside Down Cake Recipe
Posted on Apr 05, 2011 11:26 AM by Naomi de la Torre
The sumptuous flavors of brown sugar, pecans and fresh pineapple make this buttery rich cake a delicious, family classic. Try this simple recipe for pineapple upside down cake for dessert tonight.
---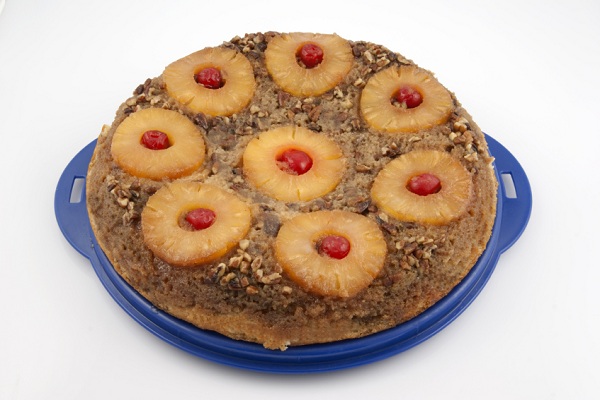 Ingredients:
1/4 cup butter
3/4 cup brown sugar
1/2 fresh whole pineapple cored and cut into circles or chopped into cubes
1 cup chopped pecans
Marachino cherries
1/4 cup butter softened
3/4 cup sugar
2 eggs
1 teaspoon vanilla extract
1 teaspooon baking powder
1/4 teaspoon salt
1 cup sifted cake flour
1/2 cup milk
Directions:
Put 1/4 cup butter into a 9 inch round pan and place into preheated 350 degree F oven.
While butter is melting, cut the peel off a fresh whole pineapple and discard. Cut the pineapple widthwise into 12 large wedges. Core with an apple corer. Use a large round cookie cutter to cut each wedge into a circle.
Remove the pan from the oven and add 3/4 cup brown sugar to make a thick syrup. Gently place pineapple circles into pan as pictured above. Add one marachino cherry in the center of each pineapple wedge. Sprinkle chopped pecans in the empty spaces.
Alternatively, if you do not want to mess with trying to cut perfect circles out of the pineapple, you can simply core and chop the pineapple into 1/2 inch cubes. In either case, you will be left with plenty of fresh pineapple after you have covered the bottom of the pan. Feel free to munch of this yummy treat as you work!
Set the pan aside.
In a small bowl, sift the cake flour with the baking powder and salt.
In a kitchen mixer, cream the remaining 1/4 cup butter with the 3/4 cup white sugar. Add the eggs and vanilla extract. Beat well.
Pour the flour mixture into the mixer and beat for 1 minute on medium. Add the milk and stir well until smooth.
Pour the batter over the pineapple chunks in the prepared pan.
Bake at 350 F for 40 minutes or until a toothpick comes out clean.
Immediately invert the pan on a serving platter.
Serve warm with fresh whipping cream or vanilla ice cream. Enjoy!
More of our favorite Daily Delight recipes:
How to make delicious guacamole
How to make chicken tortilla soup