Best Refried Beans Recipe
Posted on Apr 16, 2011 7:34 AM by Naomi de la Torre
Try this easy recipe for refried beans and make your next Mexican fiesta a sensation! With a rich smoky flavor, these beans are great for burritos, nachos, tacos, quesadillas or as a delicious side dish to any Mexican dinner!
---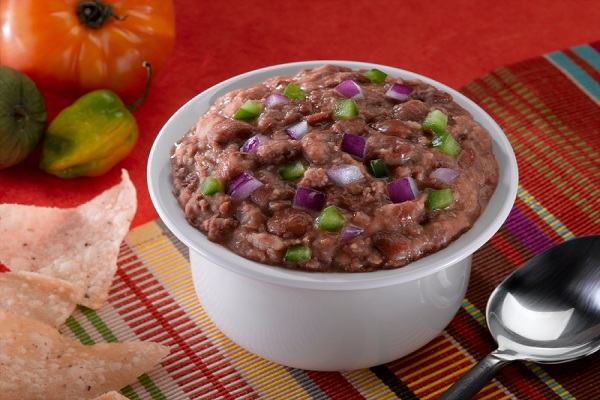 Ingredients:
1 onion, diced
1 jalapeno, seeded and minced
3 garlic cloves, minced
1 tablespoon extra virgin olive oil
4 slices cooked bacon
3 cups dry pinto beans, rinsed
12 cups water
2-3 teaspoons salt
2 teaspoons fresh ground black pepper
1 teaspoon ground cumin
3 whole bay leaves
Directions:
In a medium size skillet, fry the oinion, garlic and jalapeno in olive oil until the onions and garlic are translucent.
Rinse your pinto beans in water and pick out any small rocks.
Put the beans, water, onions, garlic, jalapenos and cooked bacon into your crock pot. Turn the pot on high.
Let the mixture cook for 8 hours while you are gone at work or overnight while you are sleeping. Test the beans to make sure they are very soft.
Remove and discard the bacon and bay leaves.
Add salt, pepper and cumin. Turn off the crock pot and let the beans cool.
At this point the beans should look like a thick stew. If there is any excess liquid, remove it and discard.
Use a potato masher to smash the beans right there inside the crock pot. (This saves you from having to add extra oil to your beans while "refrying" them.)
Garnish with fresh chiles, tomatoes, diced red onions or cheese. Serve and enjoy!
Tip: These beans store very well in the freezer. Put your leftovers in tupperware and you'll be all set next time to need an easy meal!
More Mexican fiesta recipes:
How to make delicious guacamole
How to make chicken tortilla soup