Classic Spanish Rice Recipe
Posted on Apr 17, 2011 9:51 AM by Naomi de la Torre
Spanish rice is a delicious compliment to steak, tacos, enchiladas, fajitas, pupusas or any Mexican dinner. This classic recipe simmered in chicken stock and aromatic spices will titillate your taste buds and leave you begging for more!
---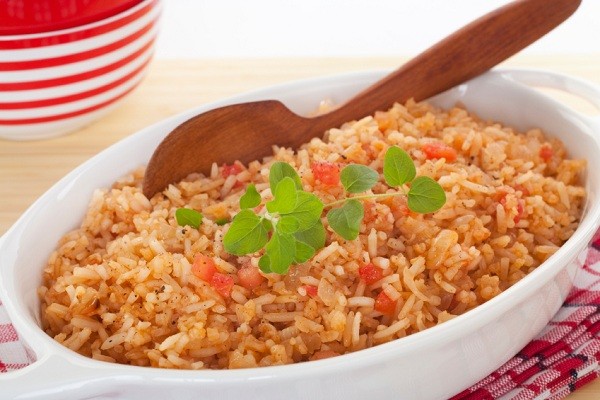 Ingredients:
1 small red onion, diced
2 cloves garlic, minced
2 tablespoons olive oil
1 1/2 cups long grain rice
3 cups chicken stock
1 small tomato, diced
1 cup diced carrots
1 cup corn
1/4 cup homemade salsa
2 tablespoons tomato boullion
1 teaspoon fresh ground black pepper
Directions:
In a large deep skillet, fry onions and garlic until translucent.
Add dry rice and continue to fry for 3 minutes or until rice is golden.
Add chicken stock and remaining ingredients. Stir until thoroughly mixed.
Keep the flame on medium until the liquid begins to boil.
Reduce the heat to a simmer and cover the pod with a tight fitting lid.
Let the rice cook for 25-30 minutes until all the liquid is absorbed and rice is fluffy. Resist the urge to stir the rice while it cooks. This just makes the rice sticky.
Enjoy your Spanish rice with any delicious Mexican dinner!
More Mexican fiesta recipes:
How to make refried beans in a crock pot
How to make a delicious margarita
How to make chicken tortilla soup