Mexican Easter Tradition: Cascarones
Posted on Apr 19, 2011 2:59 PM by Naomi de la Torre
Looking for a fun craft to do with the kids for Easter? Beautifully decorated cascarones or confetti-filled eggs are a Mexican Easter tradition that has been growing in popularity in the United States. Learn how to make cascarones and then surprise your children when you crush them over their heads. Having a cascaron broken over your head is said to bring good luck!
---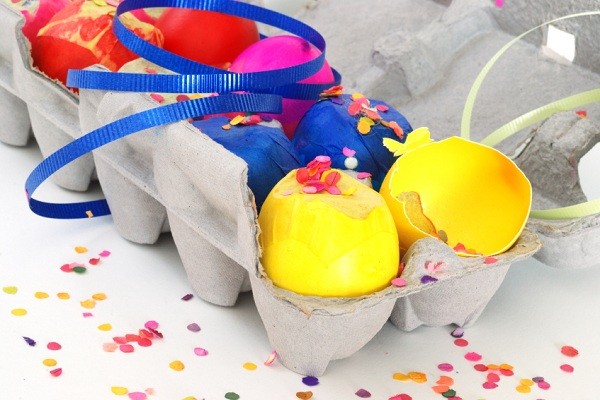 Cascarones are painted eggshells that have been filled with confetti. It's a tradition to make these eggs during the festival of Carnival in Mexico each year. The tradition may date back to the Renaissance where cascarones were originally filled with perfume. It is believed that smashing them over someone's head will bring good luck. Making them is easy and fun! Here's how:
Cascaron Supplies:
Eggs
Egg Carton
Bowl
Thumb tack
Easter egg dye kit
Confetti
Tissue paper
Glue
Scissors
Directions:
Poke a tiny hole in one end of each egg with a thumb tack. On the other end, gently make a slightly larger hole, approximate the size of a dime.
Blow through the smaller hole in each egg and empty the contents of the eggs into a bowl. (Set these uncooked eggs aside to use later for an omelet or some other yummy egg-dish.)
Place the egg shells back in the carton to dry for several hours. They are ready when the insides are completely dry.
Use a kit to dye your eggs colorful colors. Set aside to dry.
Once dry, fill your egg shells with colorful confetti.
Glue a small square of colorful tissue paper over the larger hole to seal it up.
You can hide these eggs just like regular Easter eggs and let the children find them. Or you can simply let them play with them.
Make a wish and crack the eggs over (but not on) each other's heads! If the confetti sprinkles out, your wish will come true. Happy Easter!
More Easter fun: