Posted on Apr 25, 2011 8:33 AM by Naomi de la Torre
Summer break is fast approaching with oodles of long, lazy days. Are you looking for some family-friendly activities that won't break your budget? You've come to the right spot! Check out our list of 15 Free Family Activities.
---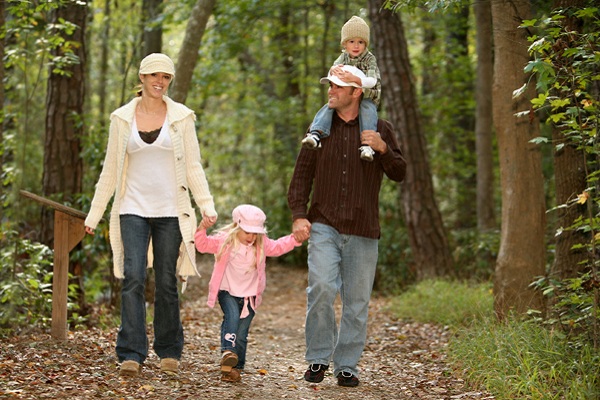 Visit a pet shop. It may not be as much fun as the local zoo, but it's pretty close! Check out everything from fuzzy bunnies and playful kittens to hairy tarantulas and slithering snakes. You can even make a game out of it by playing Pet Store Bingo. Make up some Bingo cards ahead of time with animals you think you might see. Bring some stickers to mark the ones you've found and give a round of applause to the child who finds all their animals first!

  Go puddle jumping. Don't miss all the fun on a rainy day! Grab a pair of galoshes for everyone and go puddle jumping! There's nothing better than getting soaked from head to toe with your parent's consent.

  Make homemade playdough. Homemade playdough is simple to make and so much fun. You can even add essential oils or food extracts to make it smell yummy! Or try this recipe for peanut butter playdough for a fun edible craft!

  Go on a picnic. There's nothing better than getting out and enjoying the sunshine on a beautiful, summer day. Why not pack a picnic to take along to your favorite park? Grab some tasty snacks, a jug of lemonade and a big blanket. You might not even want to come back home!

  Have a pillow fight. Got a couple of kids with more energy than could launch a space shuttle? How about busting out the pillows and having a family pillow fight? Just make sure you choose pillows that don't have zippers or buttons.

  Check out a free festival. Most cities and towns have all kinds of fun and free activities available during the summer months. Check your local newspaper and get your party on.

  Visit your library. Don't forget about the local library when you are looking for family friendly activities to do this summer. In addition to checking out the books and videos, many libraries have special programs for kids during the summer months such as performances, music, theatre, puppet shows and more!

  Go camping. Did you know that there are hundreds of free campgrounds all around the United States? Check this website for a listing of free campgrounds near you.

  Dig a garden. Been itching to get out there and build a beautiful garden? Now is the perfect time. Grab some gloves, shovels and seeds and dig in!

  Have a backyard campout. Love to camp out, but can't find the time to really get away? How about having a backyard campout? Pitch a tent, fire up your backyard fire pit, roast some marshmallows and try to scare the heebie-jeebies out of each other with your favorite ghost stories. Want to know the best part? You still have access to indoor plumbing.

  Take a hike. Do you have a forest preserve or some other natural place of beauty near your home? How about grabbing a backpack and heading out for a fun family hike? If you have little ones, bring along some small buckets so they can collect treasures on the way. Afterwards you can make a scrapbook with photos from the day and some examples of the leaves, flowers and other items your kids collected.

  Visit a museum. Most museums have one day of the week where admission is free. Why not check your local listings and explore a whole new world?

  Stage a nature scavenger hunt. Head out to your favorite park and give your kids a list of natural items to look for such as acorn, leaf, twig, shell, pinecone, seedpod, etc. Bring some small prizes to reward everyone when they finish.

  Plan a day at the beach. Bust out those bathing suits and head for the shore. Bring your sand toys and have a family sand castle building contest!

  Fly a kite. Take advantage of those windy days and get outside to fly your favorite kite! Or have the kids make homemade kites for even more fun.
More Family Fun
Looking for some fun, family-friendly activities in your city? Check out the She Knows Family Activities Guide for non-stop family fun.