Homemade Mother's Day Gifts
Posted on May 03, 2011 9:00 AM by Naomi de la Torre
Your kids want to show you how much they love you on Mother's Day -- and what a better way to let them show their love than with some fun Mother's Day crafts? This is the perfect opportunity for some Daddy-and-Me Time, while you sneak away for an hour or two to grab that much-needed date with your favorite book and some bubble bath.
---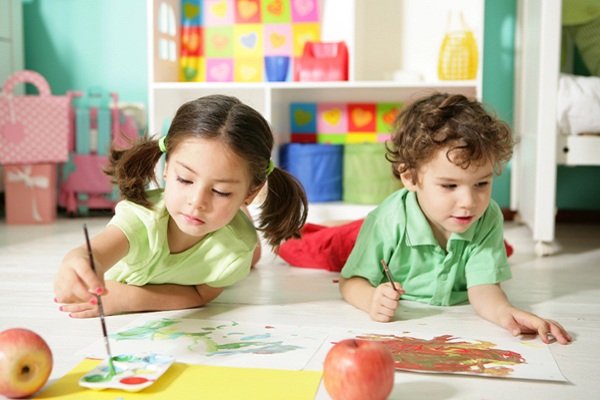 Sometimes the best gifts are the homemade ones. No, you might not be able to wear that Mother's Day pasta necklace to your fancy work cocktail party. But if your kids made it for you, it is sure to be one of the sweetest treasures you own. Read on for some of the best Mother's Day crafts around.
Pasta Necklace Craft
Colorful pasta necklaces are fun to make and a perfect way to use up all those leftover handfuls of pasta in the bottom of each pasta box in your pantry. Kids love transforming their favorite dinner into a beautiful piece of jewelry!
Supplies:
Different shapes of uncooked tube pasta (rigatoni, penne and mini wheels work well)
Food coloring
Rubbing alcohol
Ziplock plastic baggies
Paper towels
Yarn
Directions:
Prepare 5 plastic baggies with the following: 1 tablespoon rubbing alcohol, 4 drops food coloring and a large handful of pasta.
Seal the plastic baggies and shake well. (If the pasta does not seem bright enough, add another drop or 2 of food coloring to each bag.)
Make sure all the pasta is well-coated with the food coloring/alcohol mixture.
Lay out 5 paper towels. Carefully remove the colored pasta and place on the paper towels to dry.
After the pasta is completely dry (this will take several hours), invite your kids to string it on yarn to make beautiful necklaces. This is a good time to also practice making patterns and learning the names of colors.
If you have leftover colored pasta, store in a plastic container in your craft cabinet for later. You can use colored pasta for other fun projects too, like decorating frames, birdhouses or treasure boxes.
Bath Salts Craft
There's nothing mom likes better than soaking in the tub with some soothing bath salts, so why not make some homemade bath salts for Mother's Day? Use this easy recipe and you can make gorgeous bath salts for all the moms in your life.
Supplies:
Epsom bath salts
Essential oil (lavender, rosemary and  sweet orange are popular choices)
Food coloring paste (not liquid)
Glass jar
Ribbon
Fabric
Scissors
 
Directions:
In a glass bowl, mix ½ cup Epsom salt with 5 drops essential oil of your choice and ¼ teaspoon of food coloring paste. Have the kids stir this mixture until the color is fully absorbed by the salt.
Continue doing this process with as many different colors and scents of bath salt as you choose to make.
Allow the colored bath salts to dry.
Once dry, let the kids layer the salts in a glass jar. Use as many layers as you wish. The kids will enjoy this step very much.
Seal the jar. Cut a circle of fabric to cover the lid and tie with a beautiful ribbon. Voila!
Recycled Birdfeeder Craft
Love to watch the birds in your backyard? Teach your kids about the being kind to the Earth while making this wonderful recycled birdfeeder. The birds in your backyard don't care whether they are eating out of a fancy birdfeeder or one made of your old milk carton. They are just happy to find a treasure trove of their favorite birdseed. So grab a milk carton and make this beautiful bird feeder today!
Supplies:
Milk carton
Scissors
Paint
Dowel
Popsicle sticks
Glue
Birdseed
Wire

Directions:
One half of the way up from the bottom of your milk carton, cut out a 2 inch square window. Make another window the same size on the other side of the milk carton.
Paint the milk carton with non-toxic paint. Let your children be creative! You can paint it one simple color, decorate it with designs or paint pictures of your favorite birds.
Glue layers of popsicle sticks to the top of the milk carton to create a roof.
Set the bird feeder aside to dry.
Once dry, make a perch for the birds by poking a dowel 1 inch below the window so that it sticks out of both sides of the feeder.
Fill the feeder with birdseed and hang from your favorite tree with a wire.
Want to bake something yummy for mom? Check out our Death by Chocolate Brownie Recipe >>>