Posted on May 20, 2011 8:02 AM by Naomi de la Torre
Summer's just around the corner! Are you looking for some fun outdoor activities to do with your family? Check out our list of 20 Outdoor Family Activities and get your summer fun on.
---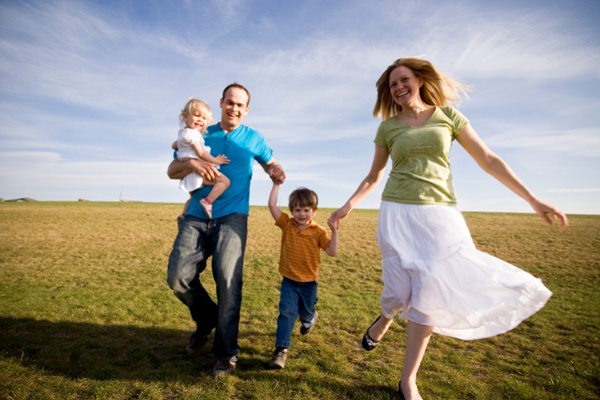 Go on a nature scavenger hunt. Take a walk on the wild side and stage a nature scavenger hunt. Head out to your favorite forest, desert, swamp or prairie and see who can find everything on the list first!

Splash around at a water park. Summer is a great time to try out the local water park. Older kids will love splashing around on all the rides and even little babies can enjoy all the fun at the sprinkler park.

Visit the zoo. Too busy during the school year to hit up the local zoo? The time is now! Make sure to check the schedule ahead of time and plan your visit around keeper talks and animal exhibitions.

Make sidewalk art. Grab a bag of colorful chalk (or make your own sidewalk chalk!) and head outside. Everyone from babies to mom and dad will have a blast creating their own colorful universe.

Go rock climbing. Like to live life on the edge? Rock climbing might be the sport for you. Just make sure to try out this sport with a knowledgeable guide who can help you stay safe while you climb.

Ride in a hot air balloon. Soar into the skies, see the world from above and take a ride to remember.

Have a car wash. You can still have fun while taking care of household chores. Head out to the garage and soap up your car with the help of the whole family. Make sure everyone wears bathing suits because this is bound to be a sudsy affair!

Spend a day at the beach. Do you leave near a lake or the ocean? Grab the whole gang and head out for a day on the sandy shores.

Plant a garden. Been dying to plant a garden but can't find the time? Summer is the perfect time to break ground with all your favorite helpers around. For extra fun, try planting a butterfly garden and enjoy the beauty of these gorgeous creatures all summer long.

Have a block party. Gather up your neighbors and head to the streets. Bounce houses, barbecue, music, games… It will definitely be a summer to remember.

Go bird watching. Grab some binoculars and a favorite bird book and head for your local forest. How many birds can you find in an hour? The race is on.

Build an obstacle course. Do you have a bunch of old boxes and other weird things clogging up your garage? How about taking all those random items out back and staging an obstacle course for the whole family. Grab a stopwatch and see who can make it through the fastest.

Have a water balloon fight. Sun beating down and looking for a way to cool off? How about filling up some water balloons and having the water balloon fight of the century?

Take a family hike. Don't let the hot weather keep you indoors. Go exploring your favorite natural spot together as a family.

Fly kites. Keep an eye out for those windy days. They are perfect for kite flying. For extra fun, try making your own homemade kite.

Build a tree house. Are the kids dying to have their own tree house? How about building one together as a family? Not only will it keep everyone busy, it will be a great learning experience too!

Go on a bug safari. You don't have to go far to go on a bug safari. Creep around in your backyard and see all the amazing things that live right there beneath your feet.

Have a bike parade. Invite the neighborhood gang over for a bike parade. Bust out the art supplies and give everyone a chance to decorate their bike with flags, streamers and more. When you are finished, parade around the neighborhood for everyone to see.

Go puddle jumping. Don't let those rainy days get you down. Have everyone throw on a pair of galoshes and some old clothes and head outside. Your kids will be overjoyed when they find out you're actually encouraging them to jump in all the puddles.

Take a night hike. It's summertime! Don't be afraid to break curfew and live life on the edge. Grab some flashlights and take a night hike, either just around your neighborhood or, even better, at your local nature preserve. Listen for all the sounds you hear only a night and keep at eye out for interesting night critters. Make sure to bring a few blankets also. After your hike, everyone will enjoy a few moments relaxing under the stars in the open sky.
Learn how to make your own sidewalk chalk