Posted on Apr 01, 2013 7:00 AM by Naomi de la Torre
Looking for something to do with all those hair balls Mr. Whiskers leaves floating around your house? Kate Benjamin may have the answer for you. How about crafting some one-of-a-kind cat hair ball jewelry? Intrigued? Me neither.
---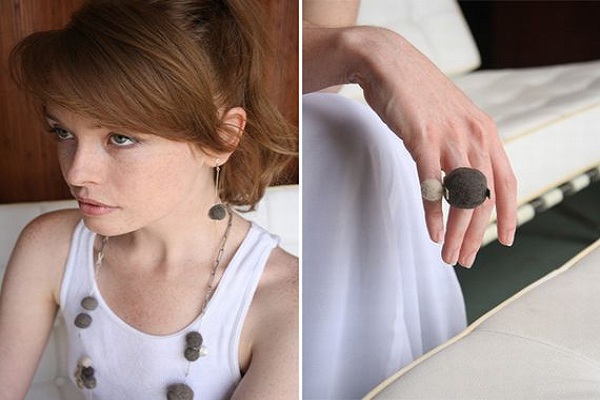 Kate Benjamin is the author of the popular Modern Cat blog which has amassed a cult following of more than 12,000 subscribers from all over the world and over 150,000 page views per month. In her blog, Benjamin has tried to dispel the myth of the crazy cat lady by featuring cat products that are both functional and aesthetically pleasing. In fact, Benjamin's own line of eco-friendly cat products are typically so hip, you might think they were from an installation in a modern art museum.
But back to the cat hair ball jewelry. Kate Benjamin was looking for a way to celebrate National Hair Ball Awareness Day in style. Which is how she came up with the idea to turn her own (seven) cats' hairy leftovers into a hot new accessory. In her own words:
Today is the day to bring attention to one issue constantly plaguing cats and their owners: hairballs. Well, we decided to do it with Moderncat style. Instead of shunning these furry frustrations, we have turned them into a hot new accessory, because if you're going to wear cat fur, why not be fashionable about it. Hairballs are not usually pretty. The best way to avoid a nasty mess is to brush your cat regularly. My preferred grooming tool is The Furminator. Use it to groom your cat and you'll have the raw material needed to create your own jewelry line that allows you to take a little bit of Kitty with you everywhere you go.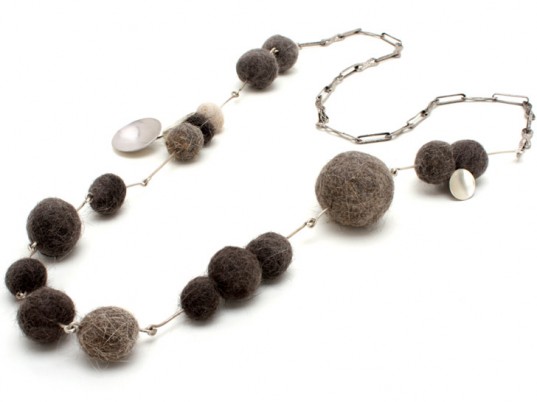 Now, as far as I'm concerned, this seems to veer more to the side of crazy cat lady than not, but hey, what do I know? Apparently, some cat owners are chomping at the bit to get some one-of-a-kind cat hair creations. Not only is cat hair ball jewelry a bit hit, but cat hair handbags are also making their appearance on fashion runways.
Cat hair balls. It's the future of fashion. Don't look now, but Mr. Whiskers just might be coughing you up a swanky new pair of leg warmers or a fur-lined bikini right now.
More Cat Hair Fashion and Accessories
You might also like: Ikea's high chair for dogs >>>