Fight Boredom
With Fun Fitness
Posted on Jun 01, 2011 10:28 AM by Naomi de la Torre
Who says exercise has to be all work and no play? Spice up your boring exercise routine with these hot new fitness trends. Get the bikini body you've been dreaming of -- while still having a great time.
---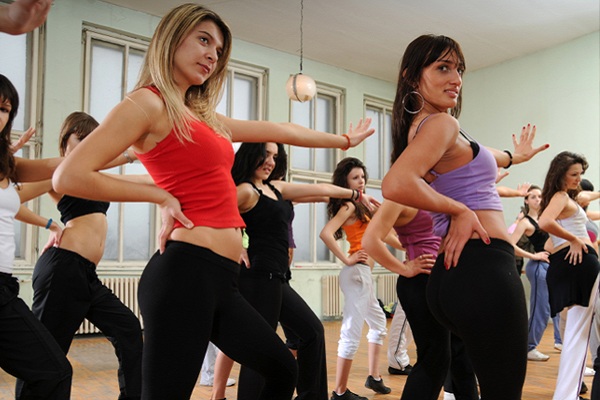 Hot New Fitness Trends
Are you stuck in an exercise rut? Doing the same boring routine day after day? "I think people often think of exercise as being yelled at by a drill sergeant or aerobics instructor or being stuck in a dark room on a treadmill, but exercise can be a lot more than that," says celebrity trainer and fitness guru Harley Pasternak. "If you perceive exercise as some kind of chore, that's how it will feel. Instead, get moving in a way you enjoy or that doesn't feel daunting."
Looking for some ways to pump new life into your daily exercise routine? Try some of the hottest new fitness trends and get your groove on:

Zumba
It's no wonder that Zumba's tagline is, "Ditch the workout, join the party." This thrilling dance-fitness program is spreading like wildfire. Burn fat, tone up and get your groove with the workout that is guaranteed to make you smile. With exhilarating dance moves set to booty-shaking Latin rhythms, it is impossible not to have fun in a Zumba class!

Kangoo Jump
If your workout routine has got you down, Kangoo Jump will lift you up into the skies. These patented jumping shoes have enormous health benefits including weight loss, endurance, cardiovascular, increased bone density, increased energy and reduced stress—all while protecting the body from injuries thanks to the rebound effect. Because it reduces the impact to your body by 80%, Kangoo Jump is even recommended by doctors and physical therapists for the safe rehabilitation of sports injuries. Try a high energy Kangoo Jump Fitness class or just enjoy their many benefits while jogging, running, dancing or doing routines in your own home.

Bellyfit
This hot new trend features a fusion of Belly Dance, Bollywood, Bhangra and African Dance to the energizing music of sultry tribal rhythms. Blending the power and vision of ancient traditions with the science of Western fitness, Bellyfit is designed to foster the mind-body-spirit connection and help women get in touch with their primal selves. Get your bellydancing groove on in the first half of the class with a sensational cardio workout, followed by the second half of the class which focuses on sculpting and toning the core. This spectacular workout finishes off with a soothing Mudra meditation.

Piloxing
What do you get when you mix Pilates and boxing? Piloxing, of course! This invigorating new fitness craze is sweeping the nation like wildfire. Piloxing is guaranteed to whip you into shape with its unique mix of power boxing moves blended with the beautiful sculpting and flexibility of Pilates. Weighted gloves add another dynamic element to the workout by toning the arms and maximizing cardiovascular health. The seamless blend of interval training, cardio, core-building and flexibility makes Piloxing a killer workout that's also a whole lot of fun.

Yoga Booty Ballet
Get your swerve on with the sexy and spirited Yoga Booty Ballet. A unique fusion of East meets West, this workout will engage your mind, work your body and lighten your spirit. Meditation, cardio dance, ballet, body sculpting and yoga come together in this transformative and empowering class that is making a buzz all over the United States.
Sneak a spicy peek at a Zumba class!