Chocolate Zucchini
Monster Muffin Recipe
Posted on Jun 02, 2011 6:35 AM by Naomi de la Torre
Believe it or not, these chcolate zucchini muffins are a lot healthier than they look! With healthy ingredients like whole wheat flour, Greek yogurt, dark chocolate and two whole cups of zucchini, you won't feel too guilty when you gobble up these tasty morsels of chocolate heaven! Nom nom nom.
---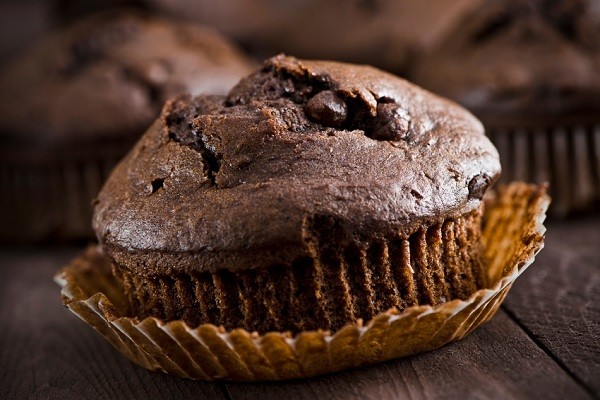 Ingredients:
Makes 2 dozen muffins
1 1/2 cups organic cane sugar
½ cup melted butter
3 eggs
1 tsp vanilla
1/2 cup Greek yogurt
2 cups grated zucchini
1 cup unbleached white flour
1 cup whole wheat flour
1 cup cocoa, sifted
1 tsp salt
2 tsp baking soda
1 cup dark chocolate chips
Directions:
Preheat oven to 350 F.
Line muffin tins with muffin cups.
In a medium bowl, sift together flour and cocoa. Set aside.
In your mixer, beat together sugar, melted butter and eggs for 2 minutes until fluffy.
Add vanilla, Greek yogurt and grated zucchini and mix well.
Stir in dry ingredients and chocolate chips and mix gently until just combined.
Spoon batter into muffin cups until they are 2/3 full. Bake at 350 for 20-25 minutes or until knife comes out clean.
Serve chocolate zucchini monster muffins immediately in all their chocolatey glory.
Swoon.
Die happy.
More yummy recipes:
Chocolate death brownie recipe
Pineapple upside down cake recipe