To-Die-For Oatmeal Walnut Raisin Cookie Recipe
Posted on Jun 16, 2011 6:20 AM by Naomi de la Torre
Are you still searching for the perfect oatmeal walnut raisin cookie? Well, today's your lucky day. This thick chewy cookie will melt in your mouth and make you bow down to the cookie gods. Make this recipe and wow your family tonight.
---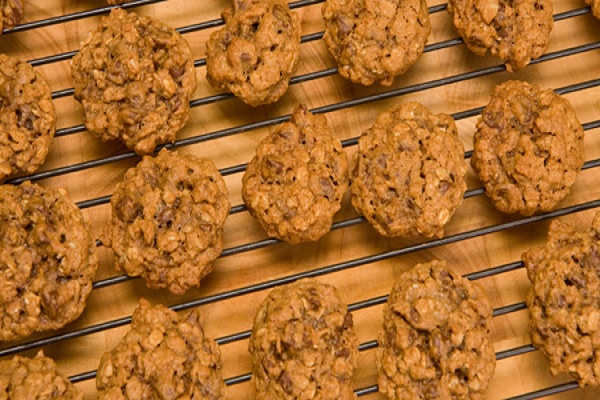 Ingredients:
1 1/4 cup butter
2 cups brown sugar
3/4 cup organic cane sugar
2 eggs
1 teaspoon vanilla extract
1 3/4 cups flour
1 teaspoon baking soda
1 teaspoon baking powder
1 teaspooon salt
1 teaspoon cinnamon
1/2 teaspoon nutmeg
3 cups rolled oats
3 cups walnuts
1 cup raisins
Directions:
Preheat oven to 350 F. Grease cookie sheets and set aside.
In a large bowl, cream together softened butter, brown sugar, cane sugar, eggs and vanilla extract.
In a medium bowl, sift together flour, baking soda, baking powder, salt, cinnamon and nutmeg.
Add dry mixture to the large bowl and beat on medium for 1 minute.
Fold in oats, walnuts and raisins.
Using your hands, form the dough into 2-inch balls.
Place on greased cookie sheet and bake for 13-15 minutes or until golden.
Makes 36 extra large and extra delicious oatmeal raisin walnut cookies.
Serve with milk and enjoy!
More yummy recipes:
How to make pineapple upside down cake
How to make easy homemade pizza crust