Posted on Jul 13, 2011 6:24 AM by Naomi de la Torre
Tired of watching annoying kid films that make you want to stab your eyes out with a pile of pick-up sticks? Check out our favorite kid's movies that parents love, too. These family classics are kid tested and mom approved!
---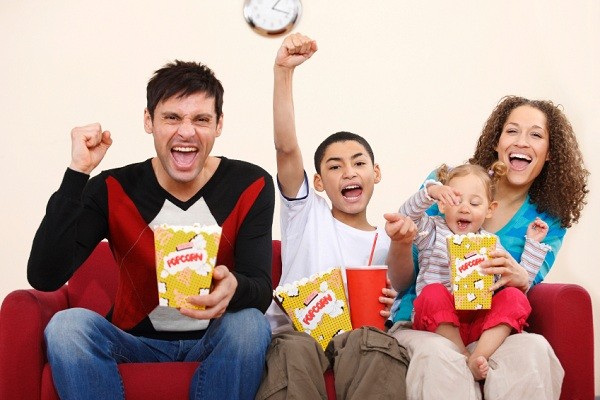 Spy Kids Trilogy
Get out your spy gear and get ready for an adventure of a lifetime. In this thrilling series written and directed by Robert Rodriguez, Carmen and Juni Cortez (Alexa Vega and Daryl Sabara) are the children of international spies, but they don't know it yet. Watch the drama unfold when their parents (Carla Gugino and Antonio Banderas) are kidnapped and the kids have to become spies in their own right to save their parents and save the world.
Nim's Island
If you and your kids love animals and adventure, you are going to flip for Nim's Island. In this fantasy-adventure film, 11-year-old Nim (Abagail Breslin) and her marine biologist father Jack Rusoe (Gerard Butler) live on a secret island in the South Pacific. They live a quiet but happy life accompanied by Nim's exotic friends—Selkie the sea lion, Galileo the pelican, Fred the bearded dragon and Chica the sea turtle. But when Nim's father gets lost at sea, Nim is left alone on the island as a tourist ship invades and threatens to ruin their island paradise.
Harry Potter and the Sorcerer's Stone
Based on the book series by J. K. Rowling, Harry Potter is the kind of story that childhood magic is made from. Harry Potter (Daniel Radcliffe) is a young orphan who is being raised by an aunt and uncle who do not care for him. At the age of 11, Harry learns a mysterious secret about his past that will change his life forever. Half-giant Hagrid tells Harry about his parents who were wizards and were killed by the Dark Lord Voldemort and delivers the amazing news that Harry is a very powerful wizard too. Watch Harry's journey into the world of wizardry as he attends his first year at Hogwarts School of Witchcraft and Wizardry.
The Incredibles
When a family of retired superheroes is forced back into the game thanks to an evil supervillain, everyone in the family gets a treat watching this hilarious, action-packed adventure that won two Academy Awards and the Annie Award for Best Animated Feature in 2004 when it was released .
Adventures of Shark Boy and Lava Girl
This movie which was envisioned first by Robert Rodriguez's children is an electrifying fantasy-adventure that will keep you and your kids on the edge of your seats. Max (Cayden Boyd) is a middle school student who is teased because he likes to write stories in his journal. But when the characters from his stories (Shark Boy and Lava Girl played by Taylor Lautner and Taylor Dooley) suddenly come to life and take Max to Planet Drool to fight the evil dream-stealing villain Mr. Electric, will Max be able to live up to the superhero powers of his fantasies?
Ponyo
Dive into the magical underwater world of Ponyo and don't come up for air until the very end. This heartwarming, spellbinding and visually amazing animated Japanese fantasy film written and directed by Hayao Miyazaki is perfect for children and adults of all ages. A poetic and profound retelling of The Little Mermaid story, Ponyo is the story of a goldfish who wishes she was human.
Charlie and the Chocolate Factory
Get ready to go down the rabbit hole in this mind-blowing retelling of the original story, Willy Wonka and the Chocolate Factory by Roald Dahl. While at first you might think you've accidentally eaten the wrong brownies while watching this film, you will soon be hypnotized by the amazing imagery, bizarre twists and poignant story.
Monsters vs. Aliens
Don't miss this girl power animated science fiction film where the main character's life dream is not to marry her prince and ride off into the sunset. In fact, after losing her future husband after being transformed into a monster during a meteroite collision, Susan Murphy aka Ginormica (Reese Witherspoon) realizes she likes being a monster after all and decides to use her new powers for good when an alien invasion threatens the planet.
More must-see movies:
Mr. Popper's Penguins movie review