Posted on Jul 12, 2011 6:45 AM by Naomi de la Torre
Can your bra save your life? If not, you might want to check into the Emergency Bra. Designed by Dr. Elena Bodnar, this life-saving undergarment is your key to salvation in the event of a terrorist attack, chemical leak or simply a bad case of BO. Simply unsnap the hooks and it quickly converts into two face masks. One for you and one for a random passerby. (Because in an emergency, random strangers clearly won't have time to be grossed out by your underarm sweat or anything.) Curious? Read on to learn more about the only bra that can save your life and enhance your silhouette at the very same time.
---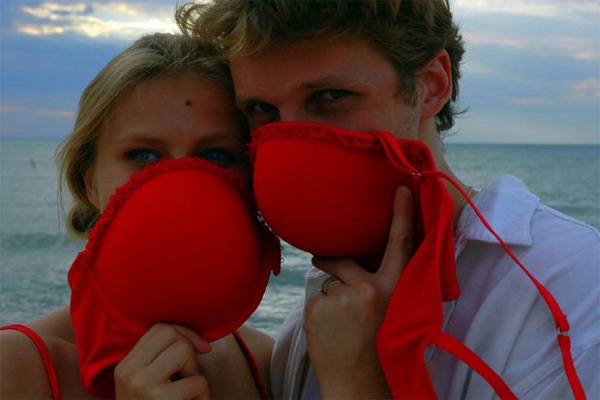 It's no surprise that Dr. Elena Bodnar won the  Noble Prize in Public Health for the invention of the Emergency Bra. Because when you need full coverage, this bra is not going to disappoint. While it may seem like a bad joke, Dr. Bodnar is not kidding about this bra's ability to take care of business in any emergency situation.
Dr. Elena Bodnar, currently the founder and President of the Trauma Risk Management Research Institute in Chicago, is an internationally recognized scientist with over 20 years of experience in clinical research and development of novel diagnostic and therapeutic modalities.
Born in the Ukraine, she began her medical career studying the effects of the 1986 Chernobyl nuclear plant disaster. She believes that if people had access to cheap gas masks at the time, it might have reduced the amount of radiation exposure the population suffered. "You have to be prepared all the time, at any place, at any moment, and practically every woman wears a bra," she said.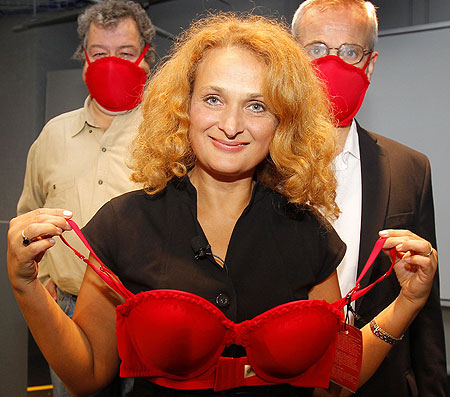 Dr. Elena Bodnar shows off the Emergency Bra
The EBra, which is available for purchase one online in sizes 32B to 40D for just $29.95, is the perfect solution.  It can be worn regular, strapless or crisscross. In fact, it can even be used as a nursing bra. "The goal of any emergency respiratory device is to achieve tight fixation and full coverage. Luckily, the wonderful design of the bra is already in the shape of a face mask and so with the addition of a few design features, the Emergency Bra enhances the efficiency of minimizing contaminated bypass airflow," explains the Ebra website.
And for those men who are a little jealous of this extra undergarment protection offered only to women, news on the street is that plans for a "counterpart device for men "are in production. We can't wait to see what that one will look like!
Learn how to convert your Emergency Bra into a face mask