Posted on Jul 18, 2011 7:16 AM by Naomi de la Torre
Dive into summer with some delicious rhubarb recipes. Don't miss out on this tasty veggie that packs a punch with its zesty flavor and amazing nutritional benefits.
---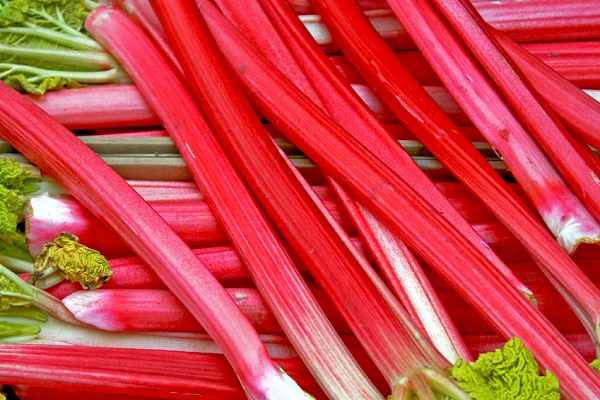 Vegetable or Fruit?
Rhubarb may be a vegetable, but it's usually treated as a fruit in most recipes because of its sweet and tangy flavor. It is often paired with strawberries and cooked into tasty pies and fruit crumbles.
Rhubarb Health Benefits
Not only is rhubarb delicious, it has incredible health benefits. Packed with fiber, vitamin A, vitamin C, vitamin K and calcium, it has been shown to produce anti-oxidant, anti-infammatory and anti-allergy effects. It is also believed to boost the immune system, protect against infections, prevent aging diseases, promote skin health, lower cholesterol, reduce the onset of diabetes and build strong bones and teeth.
Rhubarb Recipes
Looking for a way to enjoy this amazing superfood? Try some of these tasty rhubarb recipes and bring in the summer with some remarkable rhubarb fun.

Strawberry Rhubarb Cream Pie--This decadent dessert pairs strawberries with rhubarb which is always a favorite combo. Serve with vanilla ice cream or frozen yogurt for a sultry summer treat!

Rhubarb Raspberry Salad-- Spice up your favorite gelatin salad with a new twist. Zesty rhubarb, celery, nuts and sweet raspberries give this simple salad a special zing!

Tangy Rhubarb Cake-- This tangy rhubarb cake is extra moist thanks to the cooked fruit inside. Sprinkled with cinnamon sugar on top, it will satisfy any sweet tooth. Mmmmmm….

Rhubarb Punch— Looking for something sweet to sip on by the pool? Try mixing up a batch of this tantalizing punch.

Rhubarb and Strawberry Compote with Fresh Mint--This delicious compote tastes great over angel food cake for a light, summery dessert. Serve with fresh whipped cream and mint sprigs to garnish.

Rhubarb Cherry Syrup--This awesome cherry rhubarb syrup is perfect to pour over waffles, pancakes and more! Or drizzle over ice cream for a decadent summertime treat.
Note: You should never eat the leaves of the rhubarb plant, as they are poisonous. Make sure to chop them off and throw away before you begin preparing any rhubarb recipe.
Learn How to Prepare Rhubarb