Posted on Jul 29, 2011 6:18 AM by Naomi de la Torre
Looking for a fun way to dress up your next birthday party or backyard barbecue? How about whipping up some of these delicious and decadent cake pops? Your guests will think you are a baking queen, but these cake pops are actually quite simple to make! Read on to find out how.
---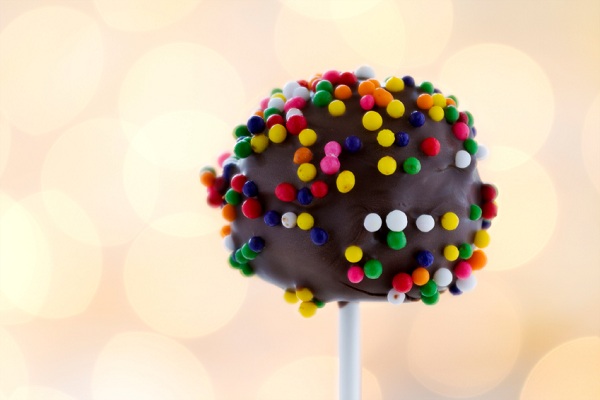 Ingredients:
1 13 x 9 inch chocolate cake, such as a boxed chocolate cake
1 pound chocolate buttercream frosting at room temperature
1 package chocolate coating bark
Assorted toppings like crushed nuts, mini chocolate chips, mini M&M's, mini marshmallows, colored sprinkles, crushed pretzels, etc.

Supplies:
Lollipop sticks
Mini muffin tin
Cookie sheet
Wax paper
Directions:
Bake chocolate cake according to recipe.
Let the cake cool for 30 minutes.
While cake is still warm, crumble the cake in a large bowl.
Add the room temperature frosting to the bowl and stir until well blended.
Put the cake mixture into the refrigerator and let cool for 30 minutes.
Using a melon baller, scoop small balls of the cake mixture about 1 inch in diameter.
Melt a small amount (approximately 2 ounces) of chocolate coating bark according to the directions on the package.
Dip lollipop stick ½ inch into the melted chocolate coating bark and then poke the stick into the cake ball. Place the cake pop into one slot in a mini muffin tin. Continue making cake pops until you run out of cake batter.
Put the muffin tin into the refrigerator to allow the cake pops to chill and harden for 10 minutes.
In the meantime, melt the rest of the chocolate coating bark according to directions on the package.
Place a clean sheet of wax paper onto a cookie sheet on the table.
Dip the chilled cake pops into the chocolate coating bark. Coat well. Now dip the coated cake pop into toppings of your choice. Colorful candy sprinkles make a festive birthday cake pop. A mixture of mini marshmallows and crushed nuts makes a decadent Rocky Road cake pop. If you are doing this project with children, let them have fun designing their own one-of-a-kind cake pops. They'll be sure to have a blast!
Place the decorated cake pops on the wax paper to set. If you want, you can put them in the refrigerator for a few minutes to chill.
Voila! Your cake pops are finished! Let the party begin.
Note: You can also make vanilla cake pops by a simple switch of ingredients. Just replace the chocolate ingredients above with yellow cake, vanilla buttercream frosting and white chocolate coating bark. 
More yummy dessert recipes:
Oatmeal walnut raisin cookie recipe
How to make pineapple upside down cake