Posted on Jul 19, 2011 9:50 AM by Naomi de la Torre
What's better than a day of arts and crafts? How about some tasty edible crafts that you and the kiddos can nosh on too? Read on to learn how to make the best edible crafts for kids. You can have your fun and eat it too!
---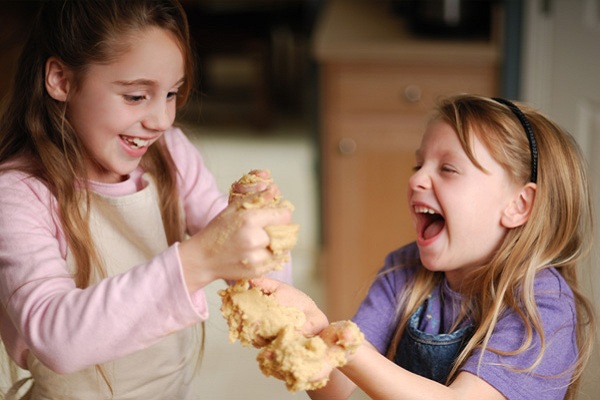 Fruit Bouquet
You've seen cookie bouquets, but have you seen flower bouquets? To make this yummy craft at home, use wooden shish kebob skewers as the flower stem. Mom and older kids can cut circular fruits into flower designs. Orange, mango, pineapple, apple, kiwi, papaya, melon and pear slices are all good bets for crafting flower shapes. First skewer a few spinach leaves on the stem and add the fruit on top as the flower. Put all the designs into a vase and take a picture before you dig in!
Edible Origami
For a geometric treat, have the kiddos make edible origami. First trim the edges off of burrito size flour tortillas to make perfect squares. Heat in the microwave for 10 seconds to make the tortilla bendable before folding. Add a dollop of jam, queso, cream cheese, peanut butter, hummus or any other favorite spread in the center of the tortilla. Fold all 4 corners to the center and you have a folded square. Heat on both sides in a frying pan to seal the shape. Serve warm!
Marshmallow Playdough
Marshmallow playdough is a lot like peanut butter playdough, which is always a huge hit with kids. The texture is a little more gritty, but it has a delicious flavor, is fun to mold and can be easily tinted with food coloring. To make marshmallow playdough, simply mix 1 cup peanut butter, 1 cup marshmallow cream and 1 cup graham cracker crumbs. Let the kids squish it together with their hands until it has the consistency of playdough. For even more fun, separate the dough into 4 parts and use food coloring to make the playdough different colors.
Rainbow in a Cup
Your kids will love this colorful treat. Make 5 colors of Jello according to the instructions on the package. Pour a half inch layer of red Jello into the bottom of as many glass cups as you'd like to make. Chill the cups in the fridge for 10-20 minutes. Gently add the next layer of orange Jello to each cup. Once again, chill for 10-20 minutes or until set. Repeat until all the colors of the rainbow are in the cup. Get ready to taste the rainbow!
Magic Wand
Get ready for a burst of magic with these edible magic wands. All you need is a handful of pretzel rods, some chocolate almond bark and sprinkles. Line a cookie sheet with wax paper. Heat the almond bark in the microwave according to the directions on the package. Dip both ends of each pretzel rod into the melted chocolate. Dust with sprinkles, place on cookie sheet to harden for 5-10 minutes and let the magic begin.