Posted on Jul 27, 2011 9:54 AM by Naomi de la Torre
Sandboxes are big fun for kids of all ages. They can provide hours of entertainment for little ones, which can be a great break for busy moms. But are sandboxes really safe? Read on to find out the risks and how to keep your backyard sandbox safe and clean.
---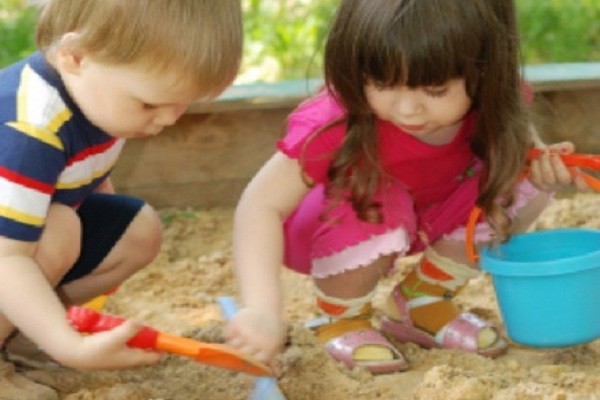 Kids of all ages love to play in the sand. There's nothing like building sandcastles, searching for hidden treasures or driving little trucks through your own homemade sandy roads. Unfortunately,  however, sandboxes can harbor hidden bacteria and parasites that can make kids sick. What's the best way to combat this problem? A few simple sandbox safety tips can keep your backyard sandbox risk-free:

Keep your sandbox covered when not in use. Cats, raccoons, possums and other neighborhood critters think you built the sandbox as a personal litter box just for them. Make sure your sandbox has a tight-fitting lid so that no one can sneak inside when you are not around.

Check the sandbox before playtime. Even if your sandbox is covered, make sure to check the box before you let your little ones inside. Make sure the box is free of animal feces of any kind or small critter who wish to make their home inside.

Don't let your kids eat the sand. Yes, we realize with toddlers around, this may be easier said than done. Little ones love to mouth everything in sight, from toys and books to random things they find on the ground. Sand is no exception. Be vigilant when your kids are playing in the sandbox. If they persist on putting sand into their mouths, end sand play for the day. It's not worth the risk.

Always wash your children's hands after they've played in the sand. It's always good hygiene to wash your hands after playing outdoors, but it's particularly important after sand play. Sing a song while you are scrubbing to make sure the kids wash long enough to remove any bacteria.

Never allow your kids to eat snacks while they are playing in the sandbox. It's always tempting to offer your kids snacks while they are playing outdoors. But sandbox play is not the time for this.

Keep the sand dry. It's lots of fun to get the sand wet so you can build tall castles, but wet sand can harbor bacteria. Make sure to let the sand dry thoroughly before you cover it for the night.

Make an indoor sandbox. Are your little ones still too small to follow your sandbox rules? How about making a small indoor sandbox with dry rice instead? You can hide small treasures like bouncy balls, plastic gems and small cars and stage a treasure hunt. Or give them different size funnels and plastic cups and see who can fill up theirs the fastest!