Splish Splash
Bath Time Fun
Posted on Aug 25, 2011 6:50 AM by Naomi de la Torre
Do you have to stoop to bribes, threats and psychological warfare each night just to get your reluctant toddlers into the tub? Make bath time fun again with these simple bath time tips!
---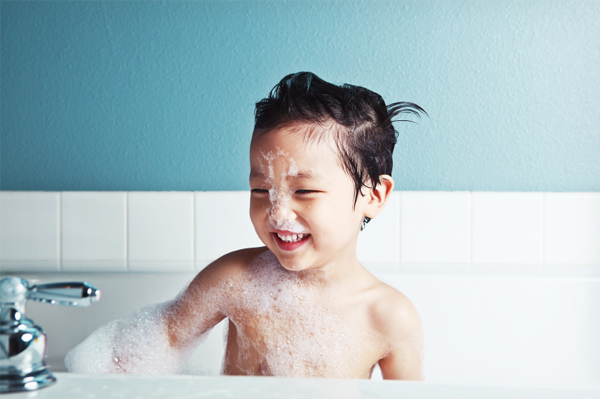 Bathing an unhappy toddler is about as much fun as bathing an angry kitten. If your little ones resist the bath, try some of these ideas for making bath time into a whole lot of splish splash fun. Before you know it, your reluctant toddlers will be begging to get clean!
The Little Scientist
Children are natural scientists. They love to experiment and explore the world. Turn bath time into a science adventure that your little ones will love. Let your little scientists experiment with bath fizzers, bath beads and bath salts in their very own bathtub laboratory. They will love mixing up potions and changing the color of the bath. And the best part? You can just hose the whole thing down when they are finished!
Shaving Cream Racetrack
Change the scenery in your bathroom by creating your very own bathtub racetrack. Fill the upper rim of the tub with shaving cream and let the kids race their favorite plastic cars. They'll have so much fun, they won't even notice they are getting clean.
Deep Sea Dive
Turn bath time into a deep sea dive with a handful of bubble bath and some plastic sea creatures. Before your children get it, put your plastic ocean friends on the bottom of the tub and fill it with bubbles. Have your children go "scuba diving" to search for all the exciting treasures under the sea.
Sink or Float
Engage your kids in a rousing game of "Sink or Float" to keep them from trying to climb out of the tub. Bring a variety of household objects and toys to the bathroom and test them to see if they sink or float. Wooden and metal spoons, small bowls, toy cars, Lego bricks, golf balls, smooth rocks, teething rings and plastic animals all make great choices. Have the kids guess before you test each item and give all the players a small prize at the end of the game.
Story Time
Keep your kids busy in the bath by turning bath time into story time. Before the kids get in the tub, ask each child to pick out 2-3 favorite books. If you want to make story time even more interactive, get some bath crayons and have your kids draw a picture of something from the story while you read. Give everyone a chance to show off their creations when the story is finished.
Bath Time Sing-a-Long
Everyone knows the acoustics in the bathroom are the best in the house! Take advantage of your mini opera house and have a fun bath time sing-a-long. Family favorites like Where Is Thumbkin, The Wheels on the Bus, Itsy Bitsy Spider and Bumping Along in My Little Red Wagon are lots of fun when surrounded by a tub full of bubbles.
Blowing Bubbles
Are your kids as obsessed with bubbles as the rest of the toddlers in the world? There's no better place to practice blowing bubbles than the bathtub. Give each kid a non-spill bubble tumbler and take turns trying to blow the biggest, smallest or funniest bubbles ever. 
Bathtub Artist
What's the best place for some down-and-dirty messy toddler fun? The bathtub, of course! Bathtub finger paints and crayons can turn any bathtub into a toddler size artist's studio! Let your tiny artists draw and paint to their heart's content and when they are finished, cleanup is as easy as 1-2-3.
Tell us: What is your favorite trick to bath time with your toddler?