Cuban Black Beans
And Rice Recipe
Posted on Aug 29, 2011 6:14 AM by Naomi de la Torre
Spice up any night with this authentic recipe for Cuban Black Beans and Rice. These frijoles negros are so tasty that everyone in your family will be licking their plates and asking for seconds. Ay caramba!
---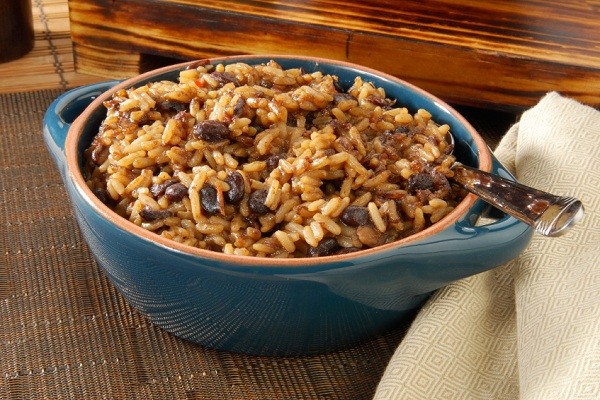 Rich in antioxidants and dietary fiber, black beans are a wonderful addition to any healthy diet. This recipe for Cuban Black Beans and Rice is delicious and can be served with chicken or beef for a traditional Cuban meal. Or roll them up in a burrito with salsa, chopped lettuce and cheese for a yummy lunch on the go!
Ingredients:
2 cups dry black beans, rinsed
5 cups water
1 small onion, chopped
1 green pepper, chopped
3 garlic cloves, minced
1 tablespoon ground cumin
1 teaspoon dried oregano
1 teaspoon salt
1 tablespoon vinegar
2 tablespoons olive oil
¼ cup organic cane sugar
3 cups chicken broth
1 ½ cups uncooked white rice
1 teaspoon olive oil
Pinch of salt
 Directions:
Soak rinsed black beans in 5 cups of water overnight. Using the same water, heat the beans to a slow boil on the stovetop and cook until tender. Keep an eye on the beans as they cook. You may need to add more water depending on how fast they are boiling.
In a frying pan, heat 2 tablespoons of olive oil on medium heat. Add chopped onion, green pepper and garlic. Fry gently until onions are translucent. Remove from heat.
When beans are soft, add the fried veggies, spices, vinegar and sugar. Cook on low heat for 30 minutes to meld flavors.
While the beans are finishing, boil the rice in a covered pan in 3 cups chicken broth, a teaspoon of olive oil and a pinch of salt. When the rice has absorbed all the liquid and is fluffy, let stand for 10 minutes before serving.
Black beans can be served over rice or mixed together depending on your own preference.
For a spicier version, add 1-2 chopped jalapenos when frying the veggies. Que rico!  
More recipes for a fun fiesta:
How to make refried beans in a crock pot