Kid-Friendly
Halloween Party
Posted on Oct 25, 2011 5:06 AM by Naomi de la Torre
Get ready boys and ghouls! From creepy crafts and spooky games to haunted decorations, we've got a cauldron full of frighteningly fun activities for your next Halloween party.
---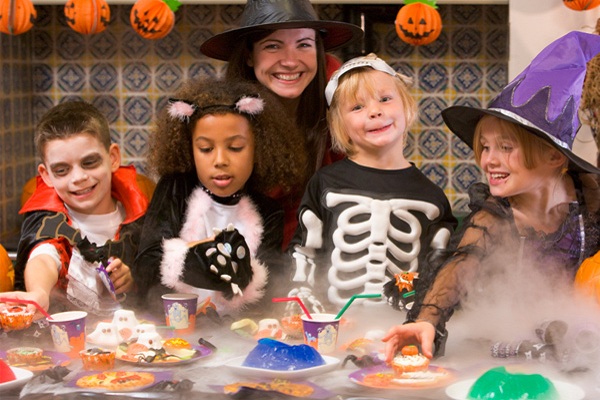 Looking for some fang-tastic ideas for your children's Halloween party? You've come to the right spot. Sink your teeth into these spooktacular suggestions and make your party go off with a scream.
Haunted Decorations
Turn any home into a Haunted House with these frighteningly fantastic Halloween decorations.
Halloween Wreath. Dress up your front door with this boo-tiful Halloween wreath that you and your kids can make yourself with simple craft supplies.
Spider Webbing. Your kids will get a scream out of turning your home into a giant spider web instantly with this stretchy decorative webbing.  
Creepy and Humorous Tombstones. Up the fear factor in your home with these Halloween tombstones made of Styrofoam and spray paint.   
Pumpkin Candles. Spook up any room with these adorable pumpkin votive candles. 
Halloween Games
Tickle everyone's funny bone with these monstrously silly Halloween games.
Halloween Treasure Hunt. Hide a bunch of spooky treasures (try dollar store toys like plastic spiders, creepy eyeballs or mini-pumpkins) around the house or backyard and see how fast the kids can find them. To make it extra fun, leave written clues the kids have to follow to find the next treasure.
Spooky Food Guessing Game. Bewitch your friends with this hilarious game. Make foods into spooky body parts. For example, use spaghetti as intestines, peeled grapes as eyeballs, scrambled eggs as brains and pretzels as bones. Put a blindfold on the kids and let them guess which spooky food the "body part" really is.
Pin the Boo on the Ghost. A spinoff of Pin the Tail on the Donkey, this game is simple to prepare. Cut an old sheet into the shape of a ghost. Draw eyes with black magic marker. Prepare "mouths" out of paper for each guest. Put on the blindfold and let the fun begin. Boo!
Monster Walk. Find pictures (or draw some yourself) of your favorite monsters. Photo copy each monster in color and laminate both copies. Place one set of laminated monsters on the floor in a large circle. Put the other set in an old pillowcase. Have the children stand on the monster squares. Play spooky music while the children walk in a circle. When the music stops, everyone stands still. Pull a monster out of the bag. Whichever child is standing on that monster wins! Give a prize to that child and keep going until all the kids are winners.
Spooky Treats
Make your menu the spookiest in town.
Halloween Cupcakes. These ghoulishly good cupcakes are a cinch to make and oh-so-good!
Goblin Juice. Turn any healthy juice into creepy fun when you add just a splash of green food coloring and orange sherbet.
Edible Slime. Turn ordinary Jell-O into a slimey treat. Make green Jell-O according to the directions on the box. When the Jell-O is half-set, add gummy worms. The kids will get a scream out of this frightening dessert.
Healthy Halloween Treats. Had enough junk food for one Halloween? Try some of these healthy Halloween treats.   
Halloween Craft Ideas
Spook yourself silly with these wickedly fun Halloween craft ideas.
Homemade Bat Piñata. Make the fun last when you try this batty Halloween craft. They are so much fun to make and each child can take his home to spook his own family!
Cereal Box Monsters. All the guests will have a monstrously good time making these adorable cereal box monsters.
Egg Carton Eyeballs. No one will pass up the opportunity to make one of these creepy egg carton eyeballs.
Oozy Gooey Slime. Get your creep on when you whip up a batch of this oozy gooey slime. Each child can make his own portion to play with and take home.