Posted on Oct 28, 2011 6:09 AM by Naomi de la Torre
Looking for the world's best potato soup recipe? You've come to the right spot. Smothered in cheddar cheese and crumbled bacon, this recipe for creamy potato soup will rock your world.
---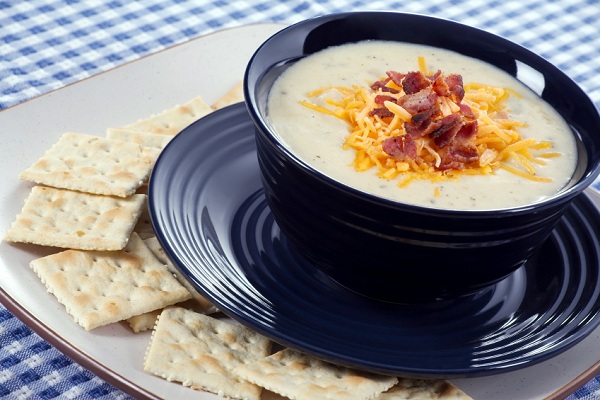 Ingredients:
7 large baking potatoes, peeled and cubed
1 large red onion, chopped fine
3 cloves fresh garlic, diced
2 tablespoons olive oil
1 teaspoons salt
1 teaspoon pepper
6 cups chicken broth
1 can evaporated milk
½ cup butter
12 slices bacon
1 cup shredded cheddar cheese
Directions:
Add the cubed potatoes to a large pot of boiling water. Cook until tender and remove from heat. Set pan aside.
In a large pot deep enough to make the soup, fry the onions and garlic in 2 tablespoons of olive oil over medium heat until translucent.
When the onions and garlic are translucent, pour 4 cups of chicken broth into the pot. Stir vigorously to make sure you've removed all the onions and garlic from the bottom of the pan so they won't burn.
Keep the heat at medium and wait for the chicken broth to boil.
In a separate skillet, cook your bacon slices 6 at a time until crispy on both sides. Use a slotted spatula to remove from pan and place on a paper towel to soak up the extra grease.
Meanwhile, strain the cooked potato cubes over a colander and discard the water. Dump half of the potatoes into your blender with the 2 remaining cups of chicken broth. Blend on high until creamy.
Pour the whipped potato mixture and the remaining cubed potatoes into the soup pot. Reduce heat to low. Add 1 can evaporated milk, ½ cup butter, salt and pepper. Stir well. Cook for another 3-4 minutes to let flavors meld and voila! Potato soup magic.
Don't forget to smother your potato soup with lots of scrumptuous bacon crumbles and shredded cheddar cheese. Oooh la la! 
More yummy soup recipes!