Posted on Nov 15, 2011 6:25 AM by Naomi de la Torre
It's no surprise that spinning class is all the rage this season. Not only can you burn up to 1,000 calories in just 45 minutes -- spinning is also loads of fun. Find out the top five reasons to try spinning class and get in the zone today!
---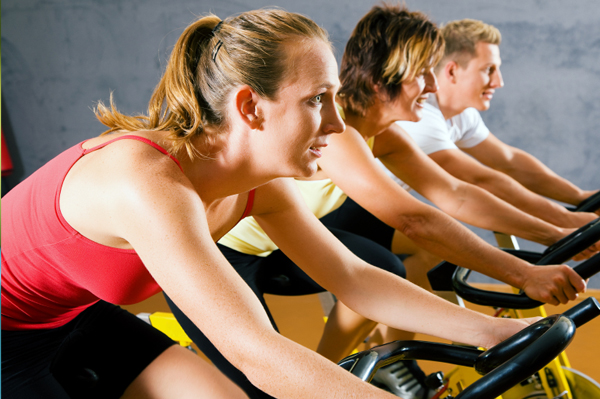 Motivating Workout
Not sure if you want to try spinning class? Don't worry. It's nothing like cycling on the stationary bike all by your lonesome in your basement. One of the best benefits of spinning is that each class is led by a certified instructor who keeps you motivated. It's like having your own personal trainer by your side encouraging you and giving your tips on how to burn the most calories and get the most out of your workout each class.
Burn Tons of Calories
Want to torch a ton of calories in a short amount of time? Spinning is your new best friend. Even with just a moderate amount of effort, you can burn around 700-800 calories and those who are working their buns off burn close to 1,000 in a 45-minute class.
Work Your Core
Spinning is a great total body workout. The instructor will lead you through different spin routines to keep things interesting while toning and strengthening a variety of muscles. Spinning also offers an intensive workout for your body's core, which you have to keep tight and firm while pedaling vigorously with your leg muscles.
Adjust Your Resistance
A huge benefit of spinning is that anyone can do it. It is considered a low-impact exercise because it doesn't put pressure on your joints the way aerobics, running and other high-impact programs can. You are in control of how fast you go and how much resistance you use. Even if you start out strong, you can modify as needed throughout your workout if you are recovering from an injury and need to be careful not to overextend yourself.
Feel the Vibe
Like any group exercise class, spinning full of exciting group energy that keeps everyone working their hardest. There's nothing more fun than spinning with a room full of people who are just as pumped up as you are. With awesome jams, exhilarating routines and an encouraging instructor, it's easy to catch the vibe and before you know it, you've burned more calories than you ate at both lunch and dinner. Booyah!
More Fab Fitness Trends
5 Fitness trends for 2011
Fight boredom with fun fitness
Get sexy and sculpted with Aerobarre