Posted on Nov 23, 2011 5:02 AM by Naomi de la Torre
Do your kids love to collect pinecones? We've got the perfect Thanksgiving craft for you! Follow these simple instructions and learn how to make the world's most adorable pinecone turkey. Gobble gobble!
---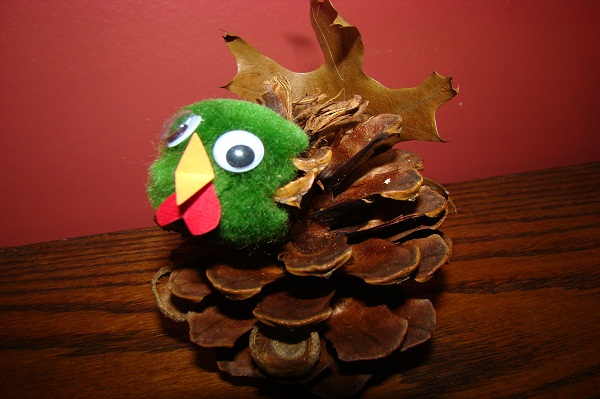 Supplies
Medium size pine cones
Fall leaves
Orange and red construction paper
Colorful pom-poms
Googly eyes
Hot glue and glue gun
Instructions
First things first! Take a nature walk with your kids and bring a basket to collect all your favorite fall treasures. Make sure to collect lots of colorful fall leaves and pine cones because you will need these to make the turkey's body.
Come back home and warm up with some yummy hot cocoa!
Next, cut out red wattles and orange beaks for your turkeys.
Using your hot glue gun, glue the pieces together. First glue the googly eyes, wattles and beaks to your pom-poms to make turkey faces. Set them aside to dry.
Meanwhile, gently bend down the bottom of your pine cone so it stands upright. Glue as many colorful fall leaves to the back of your pinecone as you wish. These will be the turkey's feathers.
When your pom-pom faces are dry, gently glue them to the top of the pinecone turkey. Now your turkeys are complete!
You can use them to decorate your Thanksgiving dinner table or to give to guests as Thanksgiving presents.
Happy Thanksgiving!
More Thanksgiving Crafts for Kids
Felt turkey magnet
Family craft: Handprint turkeys
Fun and festive Thanksgiving crafts for kids