Reindeer Christmas Crafts
Posted on Dec 16, 2011 5:45 AM by Naomi de la Torre
Ho ho ho! The countdown to Christmas has begun. Sprinkle on some holiday magic this year with these adorable reindeer crafts for kids.
---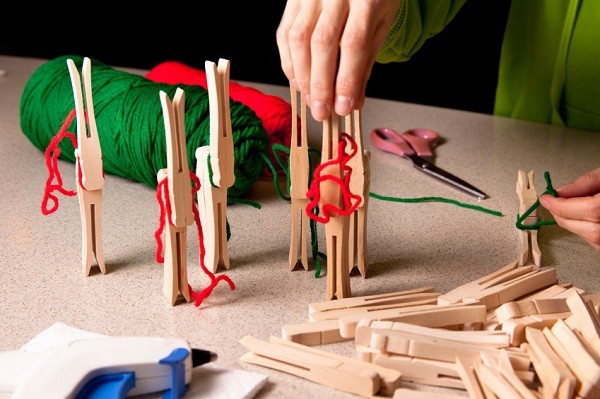 Walnut reindeer magnets
Go nutty with this easy craft that even the smallest kiddos can help make. All you need is a handful of walnuts in the shell, googly eyes, red and brown buttons, black chenille stems, circular craft magnets and a hot glue gun. Cut the black chenille stems to a length of 1 ½ inches. Have the kids twist two 1/ ½ inch stems together to make three-pronged antlers. Meanwhile, use the glue gun to glue eyes and a button for the nose on one side of the walnut shell. On the other side, glue the antlers and a small circular magnet. Now Rudolf and friends can keep your kids Christmas crafts company on the fridge all season long!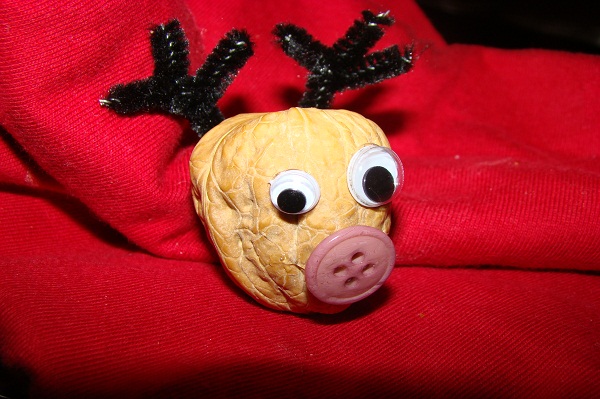 Clothespin reindeer ornament
This classic Christmas craft is fun to make and makes a great addition to your family Christmas tree. Supplies needed are clothespins, red yarn, tiny red pom poms, googly eyes, brown paint, jingle bells and a glue gun. Begin by having your kids paint all the clothespins brown. When they are dry, use your glue gun to glue two clothespins together in opposite directions (one becomes the body and the other the reindeer head). Wait a moment until the glue dries and tie a strand of yarn with a small jingle bell around the neck of each reindeer. Now let the kids use tacky glue to put on the eyes and pom pom noses and your ornaments are complete. (See photo above.)
Marshmallow reindeer pop
Who says you shouldn't play with your food? These marshmallow reindeer pops are so cute, even Santa would approve! You'll need lollipop sticks, regular size marshmallows, chocolate almond bark, small pretzels, mini marshmallows, black frosting and small red candies. Begin by lining a baking tray with parchment paper. Now poke one lollipop stick into each marshmallow and set aside. In the microwave, heat your chocolate almond bark according to the instructions on the package. Dip each marshmallow pop into the heated almond bark and coat well (this will be Rudolf's head). Before placing the chocolate covered marshmallow pop on the tray, place two small pretzels down and put the reindeer head on top. As the chocolate dries, the pretzels will adhere to the pop to form Rudolf's ears. On the opposite side from the pretzels, stick on a red candy for Rudolf's nose. When the reindeer pop dries, put two mini marshmallows on top for eyes with a dab of black frosting in the middle of each. Voila! Reindeer magic.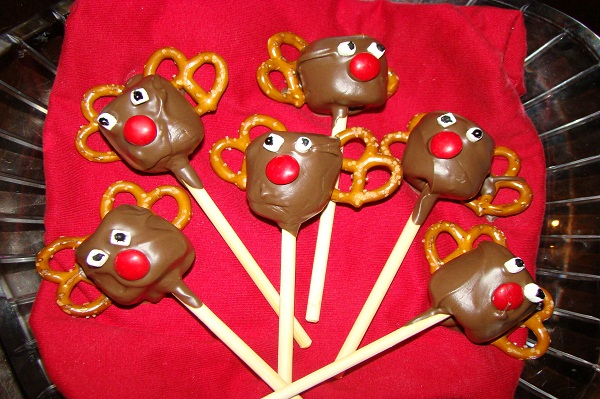 Paper bag reindeer puppet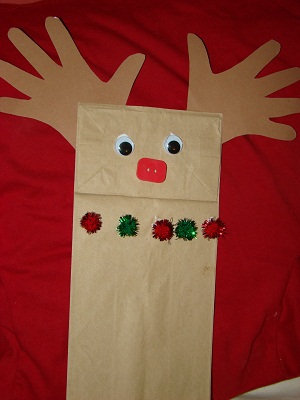 Use your kiddos hands to make this fun reindeer puppet! Begin by tracing your children's hands on brown paper. Let them cut out their hands and set aside. Using small brown lunch sacks as the reindeer's head, glue on the hands for antlers. Now it's time to make your reindeer's face! Add googly eyes and red buttons for noses. Glue a festive collar of jingle bells or glitter poms around your reindeer's neck and your reindeer puppet is complete. Merry Christmas!
More holiday family fun
12 Fresh ideas for family Christmas traditions
Top 10 Christmas movies of all time
Christmas crafts for kids