Posted on Jan 01, 2012 7:00 AM by Naomi de la Torre
Snacks don't have to be boring to be good for you. Boost your metabolism, fight the munchies and keep your balanced diet on track with these healthy and tempting 100-calorie snacks.
---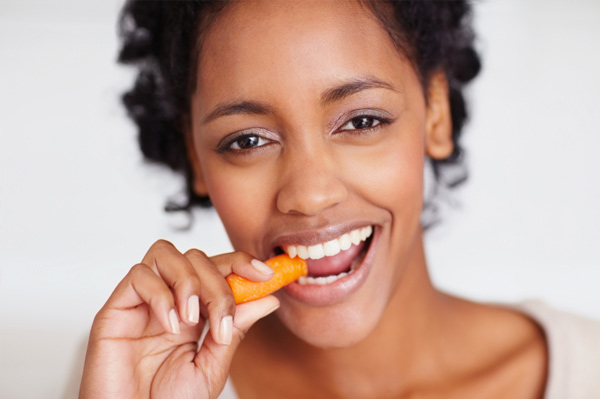 With today's fast-paced, on-the-go lifestyles, it's all too easy to fill up on fast food and other convenient and unhealthy diet choices. "We are supersizing everything, but particularly snack foods. So even if you eat just one portion, it can really be like three portions, and that can definitely derail your diet," says Noralyn Wilson, M.S., R.D., a spokeswoman for the American Dietetic Association.
Healthy eating does take conscious effort and planning, but it isn't an unreachable goal. Nutritious, low-calorie snacks can help fight the mid-afternoon munchies and keep us focused and feeling good. Try some of these tempting choices below and see how easy a balanced diet can really be!
Gourmet goodness
You may be watching your diet, but that doesn't mean you have to eat like a squirrel. There are lots of low-calorie, high-flavor recipes that can put the yum back into snacking again. Try stuffed mushrooms, vegetable frittata, lettuce wraps, chicken kebabs and other low-calorie faves. Just make sure to watch your portion size to stay within 100 calories. This mouthwatering recipe for bacon-wrapped asparagus bundles is out of this world.
Bacon-Wrapped Asparagus Bundles
Serves 4
Ingredients:
12 ounces fresh asparagus spears
4 slices lean bacon
Olive oil
Fresh ground black pepper
Directions:
Preheat oven to 400 degrees F.
Trim asparagus stems to 5 inches each.
Lightly drizzle asparagus stems with olive oil. Now wrap 4 or 5 stems together in a bundle with one slice of bacon. Secure with a toothpick and place on a baking tray.
Bake in hot oven for 12 to 15 minutes until bacon is crisp and asparagus is tender. Sprinkle with pepper to taste.
Sneaky snacks
You can get away with being naughty with these sneaky snacks. Dark chocolate is a perfectly delectable treat that is actually good for you. Ditto for fruit drizzled with chocolate sauce. Fruit smoothies and granitas are packed full of tempting flavors and will keep you filled up for hours with all that healthy fiber. Or you can warm up your belly with this sinfully delicious recipe for a skinny peppermint mocha. All the flavor, none of the guilt!  
Skinny Peppermint Mocha
Serves 1
Ingredients:
3 tablespoons cocoa powder
3 tablespoons hot water
1/2 ounce Torani peppermint syrup
1/2 cup steamed skim milk
2 shots espresso
Directions:
Stir together cocoa powder and hot water in bottom of mug to form a paste.
Add 1/2 ounce of Torani peppermint syrup and mix well.
Make 2 shots of espresso in your espresso machine. While espresso is brewing, steam 1/2 cup skim milk.
Pour espresso into the mug with cocoa and Torani syrup. Add steamed milk on top and stir.
Scoop foam on top and sprinkle with a dusting of cocoa powder.
Veggie madness
Vegetables are the perfect snack because they are low in calories and packed with nutrition to fill you up and keep your energy high. Fresh veggies and salsa, grilled veggies, curried veggies, baked veggie chips and soups are all great ideas to keep some pizzazz in your snack. Try our recipe for this rich and creamy squash soup.
Baked Squash Soup
Serves 4
Ingredients:
3 cloves fresh garlic, minced
1 onion, chopped fine
2 stalks celery, chopped
1 teaspoon olive oil
1 small acorn squash
4 cups chicken stock
Fresh ground pepper and salt to taste
Directions:
Bake squash in oven at 350 degrees F for 30 to 40 minutes or until tender.
While squash is baking, fry onion, garlic and celery with 1 teaspoon olive oil in a small frying pan until soft and translucent.
When squash is finished, scoop out the insides and place in the blender with one cup of chicken stock. Blend on high for one minute.
Pour the contents of the blender, the cooked veggies and the rest of the chicken stock into a small pot and heat for 10 to 15 minutes to meld flavors. Season with salt and pepper.
More healthy snack ideas:
7 Easy and healthy after-school snack ideas
Top 10 energy boosting snacks
Post work-out snacks