Celebrity Weight Loss Secrets
Posted on Dec 26, 2013 7:00 AM by Naomi de la Torre
You might think your favorite celebrities have discovered the magical secret to turn ice cream and chili cheese dogs into buns of steel, but rest assured, they work harder than you think. Check out these weight loss secrets from celebrity trainers who keep all the celebs in red-carpet shape year-round.
---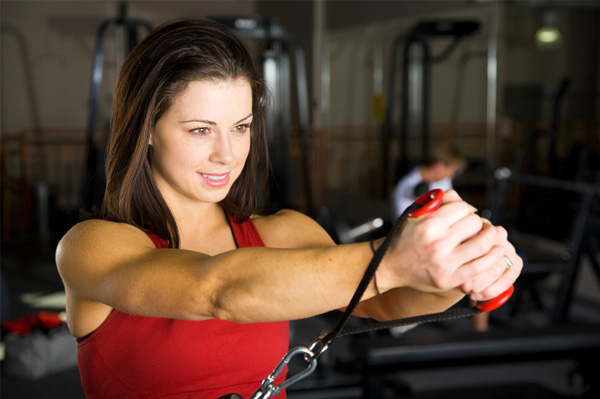 Personal training
Take a tip from dangerously sexy Halle Berry and her personal trainer Harley Pasternak: Get a workout plan designed especially for you. When you work out on your own, you may not push yourself as hard or work the areas that need it the most. Says Pasternak, "The key is to concentrate as much on the back of your body -- which exercisers often ignore -- as the front. That means targeting the rear shoulders, upper back, hamstrings, glutes and obliques, as well as the chest, quads and abs."
Yoga
The benefits of yoga are seemingly endless. Not only is it good for your body, mind and spirit, but it also can get you in rock-hard shape. Celebrities such as Jennifer Aniston, Cindy Crawford, Gwyneth Paltrow and Tina Fey all profess their undying devotion to yoga for helping them stay sexy and sculpted for the big screen. Celebrity trainer and yoga expert Kristin McGee encourages her celebs to do yoga because it boosts energy, can be done anywhere and is lots of fun. "Doing pushups is not fun, but yoga has a natural, fluid pushup that's really beautiful and effective if you're doing it right," says McGee, who trained Tina Fey into tip top shape for her stunning performance in Date Night.
Get your juice on
Get pumped up with some liquid awesome. Celebrities Demi Moore, Nicole Richie and Gwyneth Paltrow have jumped on the juice train and so should you! Drinking raw fruits, veggies and leafy greens can give you a blast of amazing energy, as well as being an excellent low-calorie meal replacement. It's also a great way to detoxify the body and boost your daily intake of essential nutrients, which is very important when you are working hard to get toned and build strength.
Cut the carbs
It's common knowledge that refined sugars, processed grains and other high-carb foods can pack on the pounds -- but it can be so tempting to slip up. Stars such as Jessica Alba and Halle Berry stay fit by following the 3-2-1 diet created by Ramona Braganza, which is based on limiting carbs and filling up on lean proteins and lots of veggies. Some extra tips for those trying to survive on low-carb diets is to eat foods that are high in fiber, which tend to be more filling and create longer-lasting energy. Quinoa is a great high-protein, low-carb replacement for pasta or rice that can be slipped into almost any meal.
High-intensity cardio
There's nothing like some high-powered cardio to burn calories. Actress Jane Krakowski admits that she's been doing her share of cardio to lose the baby weight. "Good old-fashioned hard work is the way I'm getting rid of the baby weight. I've been spinning a lot and working out with a personal trainer. I'm excited to get into my Emmy dress!" she says. Looking for a high-powered cardio routine? Spinning is all the rage this season because it allows participants to burn insane amounts of calories in a short period of time -- often as many as 1,000 calories in the span of a 45-minute class.
More fabulous fitness tips:
Bikini-friendly fitness tips
Fight boredom with fun fitness
Firm booty in 4 weeks