5 Ways To Celebrate Kwanzaa
Posted on Dec 26, 2011 5:24 AM by Naomi de la Torre
The countdown to Kwanzaa has begun! Take the time to learn about Kwanzaa and join in this wonderful cultural celebration.
---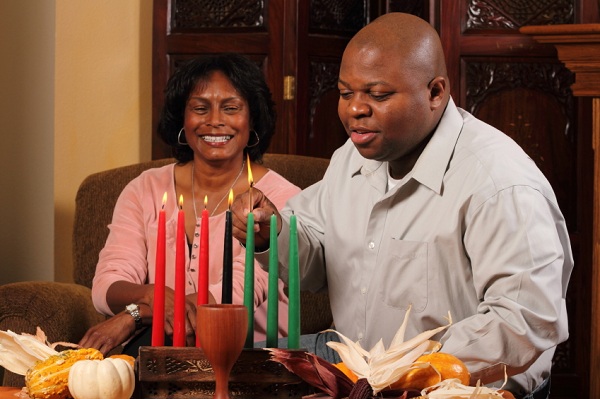 History of Kwanzaa
Although it falls during the same time of year as Christmas, Kwanzaa is not a religious holiday and isn't meant to replace any religious tradition. Instead it is an affirmation of the beauty of African culture and family values. Each year, Kwanzaa is held for seven days from December 26 through January 1. The first Kwanzaa was celebrated in 1966 as it was envisioned by Dr. Maulana Karenga. It was born out the African tradition of celebrating the harvest of first fruits and has become a global celebration of rootedness in African culture.
The Seven Principles of Kwanzaa
The seven days of Kwanzaa are devoted to seven principles which are symbolized through the Kinara candle holder. These principles which include unity, self-determination, collective work and responsibility, cooperative economics, purpose, creativity and faith are the building blocks of every society. The purpose of Kwanzaa is to uplift humanity by teaching these values and a community spirit.
Family Fun at Kwanzaa
At its core, Kwanzaa is a holiday that is all about family. There are lots of fun ways to celebrate and get involved.

Decorate for Kwanzaa: Create a gorgeous Kwanzaa centerpiece in your home. Spread your table with a colorful African cloth upon which you can place the Mkeka mat, kinara candle holder, ears of corn, bowl of fruit, unity cup and other traditional symbols of African heritage.

Join the feast: The feast of Karamu, held on December 31, is a time when families come together to celebrate, exchange gifts, sing, dance and enjoy one another's company. Check out our picks for best Kwanzaa recipes. 

Read a Kwanzaa story: There are lots of wonderful storybooks that tell the story of Kwanzaa on a level children can understand. Take a peek at our favorite children's books about Kwanzaa.

Kwanzaa crafts: One of the core principles of Kwanzaa is creativity and what a better time to get your craft on! There are lots of fun Kwanzaa craft ideas available online such as the unity cup, egg carton kinaras, mancala games, homemade Kwanzaa cards and more. Or get creative and make your own one-of-a-kind Kwanzaa crafts!

Community Kwanzaa activities: Many communities sponsor exciting Kwanzaa celebrations that are open to the public. Catch the Kwanzaa spirit and join in on this year's Kwanzaa fun.
More Kwanzaa fun
Family-friendly activities for Kwanzaa celebrations
Best Kwanzaa recipes
Celebrating family, culture and community with Kwanzaa