Spinach Alfredo Pizza Recipe
Posted on Dec 30, 2011 6:23 AM by Naomi de la Torre
When alfredo sauce and spinach come together, it couldn't get much better! Savor the rich flavors in this sumptuous recipe for spinach alfredo pizza.
---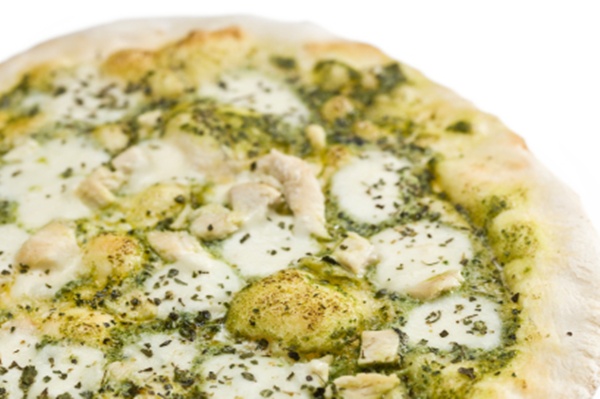 Who says pizza has to begin with tomato sauce? Alfredo pizzas are all the rage and as soon as you dig into this recipe you'll know why! Add some flair to your next pizza night with this to-die-for recipe for alfredo spinach pizza. Oooh la la!
Ingredients
Serves 8
1 recipe easy homemade pizza dough
2-3 tablespoons olive oil
1 small red onion, chopped
3 cloves garlic, minced
1 handful fresh basil, minced
32 ounces fresh baby spinach, chopped
1/2 teaspoon salt
1/2 teaspoon pepper
1 bottle (15 ounces) premade alfredo sauce
2 cups feta cheese
2 cups grated parmesan cheese
2 cups shredded mozzarella cheese
Directions
Preheat oven to 400 degrees.
Pour 2-3 tablespoons of olive oil into a large skillet. Over medium heat, fry onions and garlic until translucent.
Add chopped basil, baby spinach, salt and pepper to pan and cook for one more minute. Turn the heat off and move the pan away from the heat.
Grease two large pizza pans with olive oil.
Divide your pizza dough into two equal parts and roll out to cover both baking sheets.
Spread a thin layer of alfredo sauce over the uncooked pizza crust.
Gently spread the cooked spinach over the alfredo sauce on both pizzas.
Sprinkle with feta, parmesan and mozzarella cheese. If you want, you can also add grilled chicken for extra flavor!
Cook at 400 for 15-20 minutes or until crust is golden brown.
Serve piping hot with a Caesar salad and homemade buttery breadsticks. Bon appetit!
More delicious pizza recipes