Posted on Jan 05, 2012 5:30 AM by Naomi de la Torre
Sweeten up your morning with this amazing recipe for banana waffles. Slightly crunchy around the edges, but incredibly moist and chewy in the center, these waffles will rock your world.
---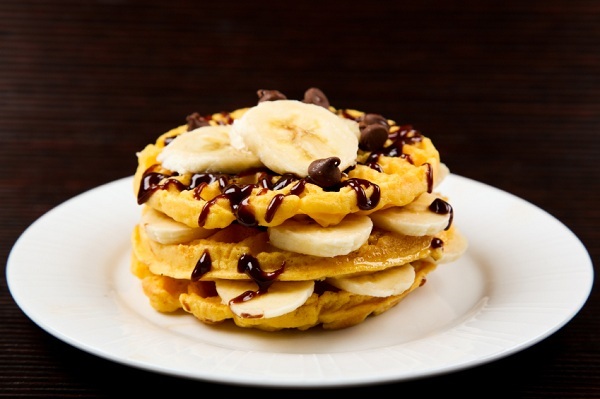 World's Best Banana Waffles
Love waffles? This recipe for bananas waffles is to die for. It's also the perfect way to use up all those overripe bananas in your fruit bowl. If you want to mix things up a bit, you could also substitute 2/3 cup of cooked sweet potato, pumpkin or applesauce. Each of these ingredients adds a delightful new twist on the traditional waffle.
If you're in the baking mood, make a double batch and save the extra waffles in the freezer for rushed on-the-go mornings. They heat up perfectly in the toaster. Just toss them in and breakfast is ready in a snap!
Note: When making a double batch of any recipe with baking soda, you will need to reduce the amount of soda you use or the baked goods may develop a bitter taste. In this recipe, use 2 ¼ teaspoons baking soda when making a double batch.
Ingredients
2 cups all-purpose flour
1 1/2 teaspoon baking soda
1/2 teaspoon salt
2 ripe bananas
1/2 cup sugar
1/4 cup melted butter
1 teaspoon vanilla extract
1 3/4 cup buttermilk
2 eggs, separated
Toppings
Heavy whipping cream
Sliced bananas
Chocolate sauce
Directions
Preheat waffle iron.
In a small bowl, sift flour together with baking soda and salt. Set aside.
In another small bowl, mash bananas with a fork until smooth and creamy.
Crack both eggs and separate yolks and whites. Using your kitchen mixer, beat egg whites until stiff peaks form. Scoop egg whites into a small bowl and set aside.
Beat melted butter, egg yolks, sugar, vanilla and bananas in your kitchen mixer until light and fluffy.
Alternately, add flour mixture and buttermilk. Beat until smooth.
Last, gently fold your egg whites into the batter. This is an important step and will make your waffles light and crunchy.
Spray pre-heated waffle iron with nonstick cooking spray.
Scoop batter onto waffle iron and cook until golden brown.
Serve waffles immediately loaded with sliced bananas, heavy whipping cream and chocolate sauce. Swoon. Eat more waffles. Die happy.
More delicious waffle recipes:
Yummy apple waffles
Tropical orange waffles
Waffle-palooza! 8 Wonderful ways to eat waffles