Clothes That Slim And Trim
Posted on Jan 13, 2012 6:27 AM by Kori Ellis
Everyone knows that wearing black makes you look slimmer, however, there are a number of other ways you can dress to impress. Follow these tips for simple ways to dress thinner.
---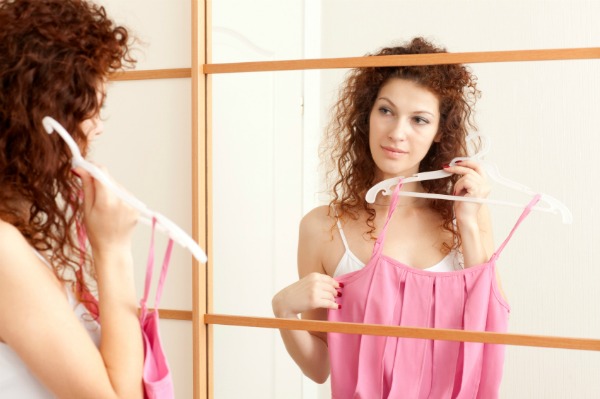 Wear clothes that fit properly
Many people think that baggy clothes will hide their weight and make them look thinner,  but oversized clothes and bulky fabrics add visual weight. On the flip side, tight clothes accentuate any flaws and bulges. Don't try squeezing into the next size down either. Instead, pick clothes that fit properly to look your slimmest. Garments should skim your body and drape nicely, not bind or cling. Wearing undergarments that fit is essential as well. A bra that is too tight causes unsightly "back fat." The right size will lift your breasts and pull up your stomach muscles, making your body appear leaner. 
Read about how to get a bra fitting >>
Put on your high heels
High heels that are at least two inches will make your legs look longer and slimmer. If you have thick ankles, avoid shoes with ankle straps -- they cut across the line of your leg, making your legs look stumpy and short. If you carry most of your weight up top, draw the eye away from your problem areas by wearing shoes in bright colors or metallics.
Read about more ways to make your legs look longer >>
Wear a trendy tunic
Tunic length tops and sweaters are your best bet to look your slimmest. Pick tunics in flowing fabrics that hit just below the hip. You can wear a tunic with just about everything, but they look their best over slim jeans or leggings. Tunics don't need a belt because of their swingy shape. However if you want to wear one, select a loose, chain belt and wear it below your waist to lengthen your torso. Tunics are on-trend this season in tribal and graphic prints. Don't wear a print that is too large or bold as it will make you look even larger. Tiny prints can make you appear larger as well. So, choose a mid-size pattern to look your best. 
Read about these tribal-inspired tunics for less >>
Play with color
Whether you have five pounds to lose or 50, what you wear can impact how slim you look. A general rule is to wear dark colors in the areas of your body that you want to diminish, and bright or light colors on the areas you want to accentuate. Remember dark colors doesn't mean you should always wear black. Chocolate brown, burgundy, forest green, burnt orange and charcoal gray are very flattering too. Also avoid pleats, thick belts and high-waisted pants to take the emphasis off your tummy.
More slimming style tips
How to dress for your body shape
What to wear to look slimmer
Hairstyles that will make you look thinner