Posted on Jan 12, 2012 6:14 AM by Naomi de la Torre
Is your postpartum pooch getting you down? After nine months of taking on an extra tenant, it's no surprise that your body isn't the same as it was pre-baby. Whether you're looking to lose weight or just firm up a little around the middle, we've got the best postpartum fitness tips around.
---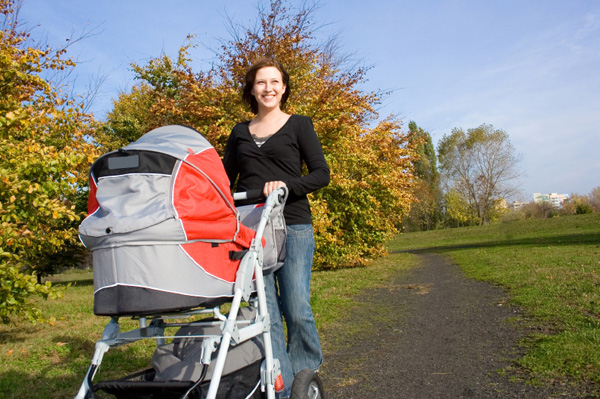 When can I begin to exercise?
If you've given birth vaginally and worked out consistently during your pregnancy, the American College of Obstetricians and Gynecologists says that you can feel free to begin a fitness program whenever your body feels ready. Don't push yourself. Remember that having a baby is very physically and emotionally exhausting and you will need your energy to care for your newborn. If you've had a C-section, you will need to wait at least 6 weeks before beginning any kind of exercise regime. If you have any questions about beginning a postpartum fitness routine, be sure to ask your obstetrician.
Best postpartum workouts
There are a variety of excellent workouts that are perfect for toning up your curvy new postpartum body. Gentle yoga and pilates are both excellent for new moms because they work the core, strengthen abdominal muscles and help to tone the entire body during a low-impact workout. Walking, swimming and biking are other good options to blast away calories and get your heart rate up without over-taxing your postpartum body.
Keeping up with the Kegels
If you've been keeping up with your Kegels throughout your pregnancy, you can give yourself a big pat on the back. But don't stop now! Keeping your pelvic floor muscles strong is the best way to avoid future incontinence or uterine prolapse.
How do I know if I am exercising too much?
If you are working out too hard, your vaginal discharge will turn bright pink or red. This is a clear sign that you are pushing yourself harder than your postpartum body can handle. Take a break, enjoy time with your newborn and try again in a few weeks with lower impact exercises.
Fitting in exercise with a new baby in the house
Let's face facts. Planning out a regular exercise routine with a baby in the house is about as easy as teaching an elephant ballet. One of the biggest challenges to getting your body back may not be your own motivation or desire to work out, but rather, finding the time to do so. Newborns require a lot of attention and it may not be possible to get away for a 30-minute workout video, much less a couple of hours at the gym.
Break up your workouts into shorter 10 or 15-minute increments or try some exercises that you can do with your baby. Take brisk walks with your baby in the stroller or baby carrier. Or sign up for some of the workout classes designed especially for new moms and their babies like Stroller Strides, Yoga for Two and Baby Boot Camp. With proper planning, motivation, and a little creativity -- you can get your sexy pre-baby body back!
More postpartum fitness tips
4 Ways to combine playtime with a workout 
5 Fitness tips for new moms
Change your attitude about your postpartum body