Posted on Feb 16, 2012 6:42 AM by Naomi de la Torre
Spring cleaning season is just around the corner! But did you know that the harsh chemicals in some cleaners can actually do more harm than good? If you are interested in learning some safe and effective eco-friendly cleaning techniques, check out these simple ways to green your clean.
---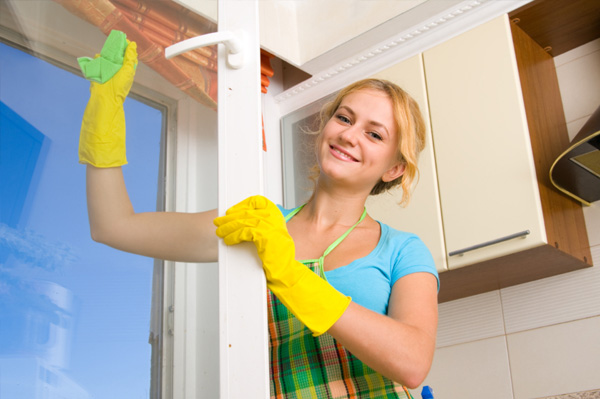 All-Purpose Household Cleaning Spray
This eco-friendly household cleaning spray can be used to clean almost any surface in your home. The acid in vinegar acts as a natural disinfectant. Borax will help to neutralize odors, dissolve tough stains and remove grease and grime. A powerful natural disinfectant, orange oil will boost your natural spray's cleaning force, while at the same time leaving your home smelling delightfully fruity and fresh.
Ingredients
28 ounces hot water
¼ cup white vinegar
1 tablespoon borax
10-20 drops orange oil
32-ounce spray bottle
Directions
To mix up a batch of your own natural household cleaner, simply shake the ingredients below together in a spray bottle and go! Take care to make sure the borax is completely dissolved before you begin cleaning.
Stain-Fighting Laundry Booster
Worried about all those pesky stains on your clothes, but still trying to avoid harsh chemicals in your laundry? Just try our recipe for this stain-fighting natural laundry booster.
Ingredients
1/2 cup borax
1 gallon hot water
Gallon jug
Directions
Make a solution mixing hot water with borax. Shake well until borax dissolves. Soak stained garments in enough borax solution to cover clothes for 30 minutes before washing.
You may also add 1/2 cup of borax directly to your wash along with your laundry detergent to boost its natural stain-fighting power.
Natural Window Cleaner
This natural window cleaning solution is just as effective for keeping your house sparkling clean as traditional cleansers. The lavender essential oil adds a lovely aroma, but can be switched for a different essential oil of your choosing if you prefer.
Ingredients
2 tablespoons vinegar
10-20 drops lavender essential oil
31 ounces water
32-ounce spray bottle
Directions
Add ingredients to spray bottle and mix until well-combined.
Try using old newspaper to clean your windows rather than paper towels. They work just as well and save on waste.
Green Bathroom Cleaners
Bathroom cleaners can be the worst when it comes to harsh, irritating chemicals. Try using these green cleaners and keep your bathroom fresh the natural way!
Straight borax or baking soda can be used to clean your toilet. Simply sprinkle into the bowl, let stand for 10 minutes, swish and watch the dirt melt away.
A 50/50 solution of white vinegar and water can be used to spray down surfaces that need disinfecting like the surface of your toilet or porcelain countertops. Add a few drops of tea tree oil for an extra blast of disinfecting power.
Got dirty grout in your bathroom? Simply scrub with straight vinegar or borax on a toothbrush and wash the stains disappear.
Natural Wood Polish
Don't waste your money on expensive wood polish. Mix up a bottle of this natural wood polish and keep your furniture looking brand new all-year round.
Ingredients
1 cup olive oil
5 drops orange oil
5 drops lemongrass oil
Glass bottle
Directions
Simply pour a small amount of the solution onto a dusting cloth and polish away! The orange and lemongrass essential oils will add a fresh citrus smell to your clean home.
More on green living
15 Ways to go green in your daily life
8 Green gift-wrapping ideas
Eco-friendly party favors
25 Ways to go green at home