Posted on Feb 14, 2012 6:04 AM by Naomi de la Torre
You want your kids to eat more broccoli. They'd rather survive on corn dogs and Cheetos. Fear not. We've got nine sneaky ideas to get your picky eaters eating more fruits and veggies at every meal.
---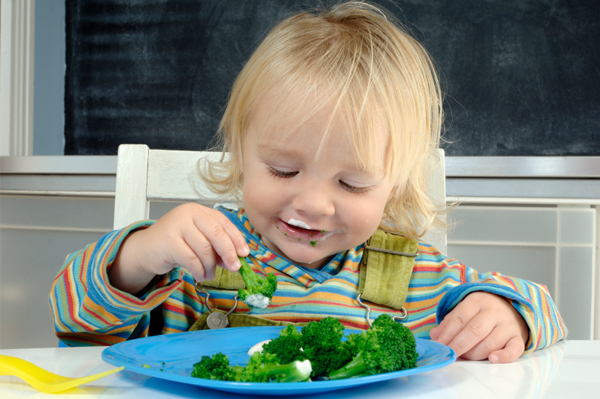 Chill out
You'd be amazed at how appealing frozen fruits and veggies can be. The very same peas that your son won't eat at dinner, he'll happily wolf down when they are presented as a tasty frozen snack. Try frozen peas, corn, carrot bites, edamame, green beans, grapes, blueberries, raspberries, banana slices and more!
Dippity-doo-da
Tasty dips can make all the difference! Serve an after-school snack platter full of fresh veggie spears and several fun and healthy dipping sauces like black bean dip, hummus and ranch. Better grab a couple for yourself fast because the entire plate will be gone before you can say "Dippity-doo-da!"
Taste the rainbow
Kids are naturally attracted to color. Why not make healthy eating into a game and keep a chart for who can eat the most colors (fresh foods only!) each day? This will give your kids a fun incentive to try new fruits and veggies they might not otherwise be willing to taste.
Grow a garden
Digging in the dirt is loads of fun! Get your little ones involved in growing a garden in your own backyard. They will be filled with amazement when the seeds they've planted begin to sprout. Most children are very eager to try fruits or veggies they've helped to plant themselves. Not to mention, this offers lots of opportunties for you to begin to talk to your kids about eco-friendly living and other benefits of growing your own foods.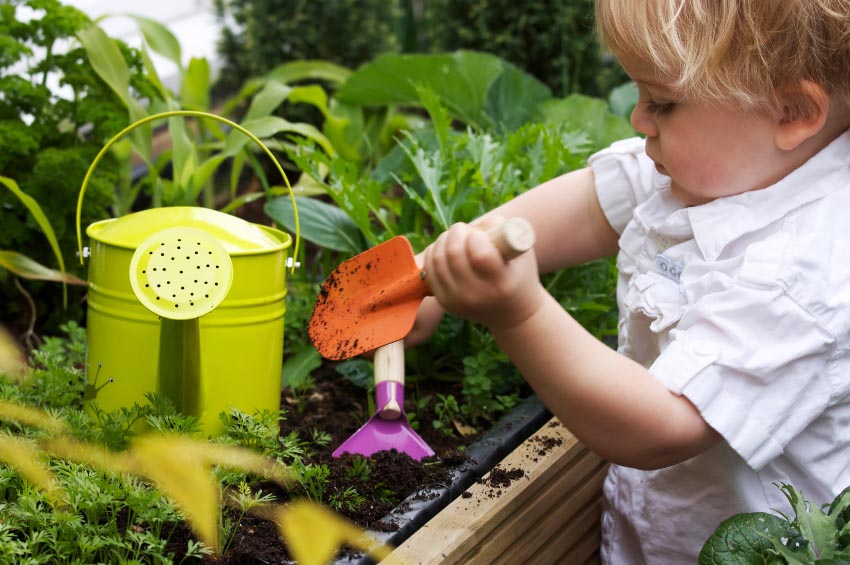 Sneaky chef
If your kiddos turn up their noses at the sight of fruits and veggies, try some sneaky ways of hiding them in all their favorite foods. Pureed squash can hide easily in mac 'n cheese, pureed cauliflower disappears into mashed potatoes and tons of veggies can be blended into soup stock. Pureed prunes, pumpkin and applesauce can replace oil in muffins and grated zucchini makes chocolate cake taste even more moist and delicious!
Groovy smoothies
Smoothies are famously popular with kids and the perfect way to bump up their daily fruit and veggie intake. The best part? You can easily sneak fruits and veggies they might otherwise not try into smoothies. Avocado, spinach, colorful peppers, celery and carrots have lovely flavors that blend well with fruits so your kids won't even know the difference.
Crunch and munch
Can you imagine your kids chowing down on a pile of beets, squash, green beans, carrots and turnips? Say hello to baked veggie chips! Now available in bulk at most natural grocers, kids can't get enough of them.
Edible crafts
Who doesn't love to play with their food? Keep life interesting when you turn snack time into playtime. Use toothpicks, Popsicle sticks, wooden skewers, Dixie cups and more to build interesting edible crafts with wholesome goodies. Cauliflower florets magically become sheep when you put them on toothpick legs. Plant baby trees (broccoli florets) in freshly plowed dirt (black bean dip) to make your own garden. Cut up different size pieces of fruit and make funny faces. Thread fruit or veggie wedges onto skewers to make edible arrangements that everyone in the family will love.
Freeze-dried faves
Your kids might not like the taste of star fruit or green beans fresh, but chances are they will love them freeze-dried. You can find a wide variety of freeze-dried fruits and veggies at your natural grocer. And you'll be thrilled to know that they still retain their nutritional value with powerhouse antioxidants, essential vitamins and minerals.
More on healthy eating
7 Easy and healthy after school snack ideas
Back to school nutrition tips for healthy kids
The dirty dozen: Which fruits and veggies should you buy organic?