Perfect Homemade Pretzels Recipe
Posted on Feb 15, 2012 4:04 AM by Naomi de la Torre
You don't have to go to the carnival to get soft chewy pretzels anymore! This recipe will teach you how to make perfect homemade pretzels in your very own kitchen. Whether you decide to dip them in cheese sauce or smother them in cinnamon sugar, you are in for an amazing treat!
---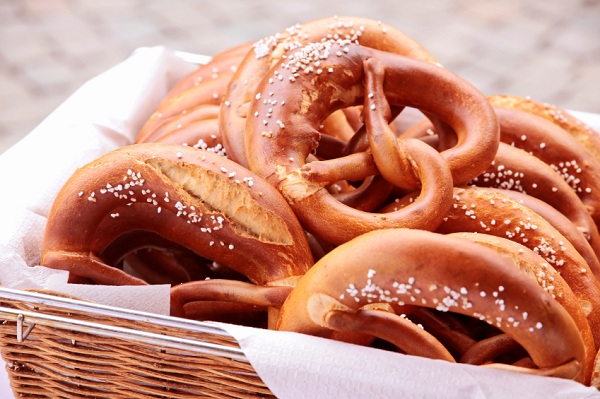 Homemade soft pretzels are a delicious treat everyone in your family will enjoy. They are the perfect snack for after-school, Sunday night football or a fun addition to family movie night.
If you are looking for a fun activity to do with your kids, get them involved in making the pretzels. Kids can help make the dough and roll it out into interesting shapes. Let them use their imagination to create pretzels of every shape and size. For little ones, this is a great chance to practice numbers and letters. You can make the whole alphabet with a single batch of pretzel dough. Whatever you decide, pretzel making is tons of fun for the whole family!
Homemade soft pretzel recipe
Ingredients
1 1/2 cups warm water
1 package yeast
2 tablespoons sugar
6 tablespoons melted butter
2 1/4 teaspoons salt
5 cups flour
Non-stick cooking spray
3/4 cup baking soda
12 cups water
2 eggs beaten with 2 tablespoons cold water
Coarse kosher salt
Directions
In your mixer, combine water, yeast, sugar, butter and salt. Using your bread hook attachment, stir in flour one cup at a time. When all the flour has been added, place the dough on a floured surface and knead until smooth. (Approximately 5-7 minutes.)
Spray a large bowl with non-stick cooking spray and place the dough inside. Cover with a wet towel and let dough rise until doubled. (Approximately 1-2 hours.)
Preheat your oven to 425 degrees and grease 2 large baking sheets. Beat 2 eggs with 2 tablespoons cold water and set aside.
On a lightly floured surface, place the dough. Divide into 10 equal pieces. Roll the dough into 20-inch ropes and shape into pretzels.
Boil 12 cups water with baking soda in a large cooking pot on your stove.
With a large slotted spoon, gently dip each pretzel into the boiling water on your stove. Keep it submerged for 30 seconds and remove.
Place the boiled pretzel on the greased baking sheet and gently brush with egg mixture. Sprinkle with coarse kosher salt (or leave them plain if you prefer) and bake at 425 for 15-17 minutes or until shiny golden brown.
If you decide to leave the pretzels bald, when they come out of the oven, you can brush them with melted butter and sprinkle with cinnamon sugar for a sweet treat!
More yummy snacks
How to make homemade guacamole
Chocolate death brownies recipe
To-die-for nachos recipe
How to make oatmeal walnut raisin cookies