Posted on Feb 21, 2012 6:17 AM by Naomi de la Torre
Looking for the fountain of youth? Don't go searching for a hot vampire just yet. We've got a slew of beauty secrets that will help you turn back the clock and look young again.
---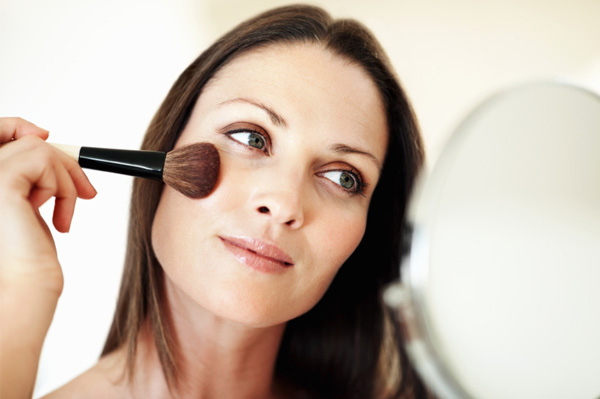 Does your look need a lift? You don't need plastic surgery or Photoshop to look hot and young again. Just follow these simple makeup tricks to look younger and you can shave up to 10 years off your face.
Never make your eyes and lips compete
It's always good to accentuate your best features, but playing up both your eyes and mouth can make you look clownish and older than you are. Going out for a night on the town? Choose a dramatic look to make either your eyes or mouth pop, but never do both at the same time.
Make your lips pop
If you want to draw attention away from fine lines around your eyes, bring attention to your mouth with luscious kissable lips. Stay away from brown lipstick shades because they tend to age you. Also avoid matte hues, as they can settle into your lip lines. Get that gorgeous bee-stung look with glossy lipsticks or add a dab of gloss to your favorite lip liner.
Play up your eyes
Liquid liners can create gorgeous eye-popping looks, but they can be harsh on older eyes. Try a softer, more natural look with an eye pencil to play up your best features.
Plump up your skin with moisturizer
Keep your skin looking soft and dewy with a rich moisturizer and moisturizing soap. Create the illusion of youthfulness by applying your moisturizer when your skin is still damp for maximum plumpness.
Keep a tight brow
A professionally threaded or waxed brown can do wonders for your entire face. Not only will it open up your eyes and make your lashes look longer, it can shave years off your age. Plucking your brows and drawing them is an absolute no-no. This can give your face a harsh, dated look. If your eyebrows are naturally thin and sparse, fill in empty spots with a soft eye pencil one shade lighter than your natural brow color.
Switch out your shadow
If you have visible wrinkles around your eyes, just say no to shimmery eye shadow. Frosted and shimmery shadows actually highlight wrinkles rather than concealing them. Shape and define mature eyes with silky, matte shadows to create a youthful look.
Stay out of the sun
Sure, sun-kissed skin is beautiful when you are young, but it sure does bring on the wrinkles as you age. Stay out of the sun and keep your skin looking young and vibrant. Get that gorgeous, healthy glow with the help of good moisturizer and a bronzer. Apply a bronzer shade that is just one or two shades darker than your skin to your forehead, chin, nose and cheekbones and you'll have that sun-kissed look all year round.
More makeup tips
4 Makeup tricks to look younger
Green your beauty routine
How to create a smokey eye look