Posted on Feb 28, 2012 5:47 AM by Naomi de la Torre
Free love? Psychedelic drugs? Nudist senior citizens? Hilarious, gross and gleefully fun, Wanderlust is a wild ride from beginning to end.
---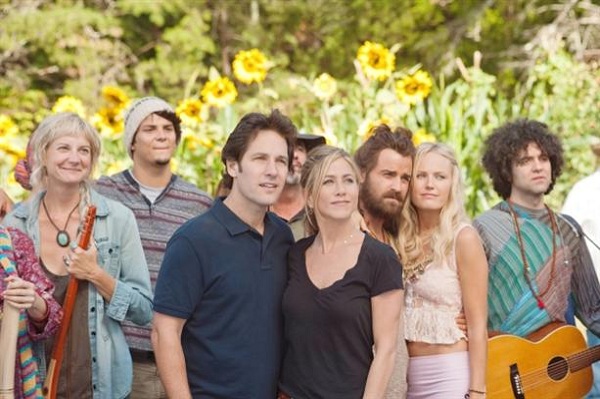 Life in the fast lane
When an overworked, uptight Manhattan couple stumbles into a free-love, neo-hippy commune on their way to Atlanta, they have no idea how entangled they will become. In Wanderlust, Paul Rudd and Jennifer Aniston play George and Linda, typical New Yorkers who are living the big city dream while simultaneously feeling trapped by life in the fast lane.
When George suddenly loses his job and they can no longer afford their expensive micro-loft, they are forced to go to Atlanta to live with George's obnoxious brother. On the way, they stop at Elysium Bed and Breakfast which at first glance appears to be a normal inn, but turns out to be a kooky commune complete with midnight psychedelic drug parties, placenta-eating vegans and novel-writing nudists.
Drinking the Kool-Aid
While they are at first (understandably) freaked out by their surroundings, after a painful taste of life at George's brother's house and without any other good options, they decide to drink the Kool-Aid and give commune life at Elysium a shot. They are welcomed by Seth (Justin Theroux), the apparent guru of Elysium who indoctrinates them on the rules of daily commune life which include sharing all possessions, free love and a disturbing lack of privacy even in the bathroom.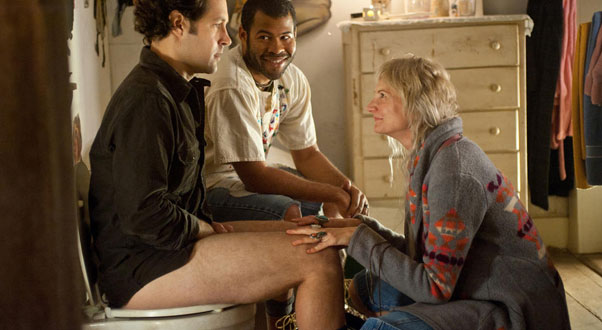 Gut-busting giggles
Wanderlust is jam-packed with gut-busting giggles, but at the heart of this rambunctious and raunchy film is a tender story about George and Linda's relationship. While it seems at first they are united on a quest to free themselves from the confines of modern life, as they move deeper into life at Elysium it becomes clear that their paths are diverging and their marriage is tested.
Despite many high notes in Wanderlust, some of the humor is hit or miss. Particularly painful to watch is one scene where George attempts to seduce the gorgeous Eva (Malin Akerman) with the most embarrassingly juvenile dirty talk you wish you could stab out your eardrums with your ticket stubs. But overall, the movie is engaging, wacky, amusing and pure unadulterated fun.
Sneak a peek at the Wanderlust trailer
More movie reviews
Journey 2: The Mysterious Island
The Adventures of Tintin
50/50