Best Irish Soda Bread Recipe
Posted on Mar 08, 2012 6:12 AM by Naomi de la Torre
Celebrate St. Patrick's day with this classic recipe for Irish soda bread.
---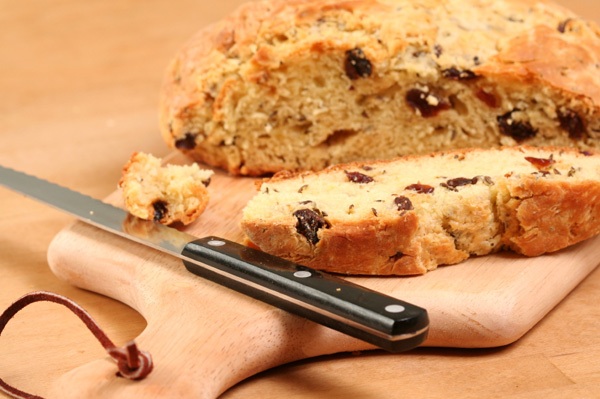 History of Irish Soda Bread
Irish soda bread is a hearty quick bread that tastes delicious with traditional Irish favorites like shepherd's pie, corned beef and cabbage, potato soup or Irish stew. A simple bread to make, it became popular during the mid-nineteenth century when baking soda was first introduced to Ireland. The combination of baking soda and buttermilk creates a chemical reaction that causes the bread to rise and gives it a delicious flavor.
Irish Soda Bread Recipe
Ingredients
4 cups flour
3/4 cup sugar
½ teaspoon baking soda
2 teaspoons baking powder
1 teaspoon salt
2 cups buttermilk
1 large egg, lightly beaten
¾ cup raisins or currants
Directions
Preheat oven to 400 degrees. Place a greased cast iron skillet in the oven to heat while you prepare the dough.
In a large bowl, sift together flour, sugar, baking soda, baking powder and salt. Set aside.
In a small bowl, beat eggs until fluffy. Add buttermilk and mix well.
Make a well in the center of the dry ingredients. Add the wet ingredients and the raisins.
Mix with a wooden spoon until too stiff to stir. Turn the dough onto the countertop and gently knead with your hands to form a round loaf. Be careful not to over-knead the dough as this will create a tough loaf.
Score the loaf with a knife making a "X" on top.
Carefully remove the heated cast iron skillet from the oven with an oven mitt and transfer the dough into the pan.
Bake at 400 degrees for 40-45 minutes or until an inserted toothpick comes out clean.
Serve warm.
More tasty recipes
How to make delicious honey wheat bread
Chocolate death brownies
How to make cake pops