Posted on Dec 26, 2013 8:00 AM by Naomi de la Torre
Spice up your morning with this amazing recipe for banging breakfast burritos. Filled with eggs, veggies, potatoes, bacon, cheese and set-your-mouth-on-fire salsa, you simply can't go wrong with this scandalously delicious Mexican breakfast. Booyah!
---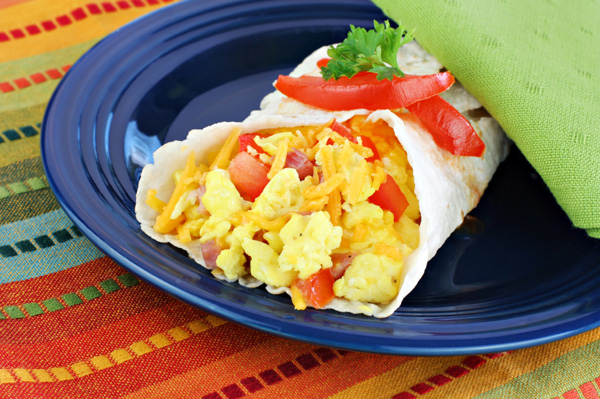 Banging Breakfast Burritos Recipe
Ingredients
2 large baking potatoes, diced in 1/2 inch cubes
1 small red onion, chopped
1 clove garlic, finely diced
1 medium tomato, diced in ½ inch cubes
1/2 red pepper, chopped
1 jalapeno, finely diced
1 handful cilantro, coarsely chopped
Salt and pepper to taste
Olive oil for frying
6 eggs, beaten
1 1/2 cup refried beans
1 cup shredded cheddar cheese
1 cup homemade salsa
6 slices crispy bacon
6 large flour tortillas
Directions
In a small frying pan, sauté ½ chopped red onion and diced garlic in 1 teaspoon olive oil until translucent. Add diced potatoes and a dash of salt and pepper. Fry for 10-15 minutes or until crispy and golden brown. Set aside.
In a medium frying pan, sauté the other half of the onion, tomato, red pepper and jalapeno in 1 teaspoon olive oil until soft. Toss in the chopped cilantro. Add a dash of salt and pepper and stir in the beaten eggs. Cook for 5-10 minutes (scrambling eggs gently) or until eggs are cooked through. Turn off heat and set eggs aside.
In a large frying pan, heat flour tortillas on both sides until soft. After heating tortillas, assemble the burritos. Begin by smearing a heaping spoonful of refried beans in the middle of the tortilla. Add a couple of tablespoons of eggs and potatoes. Tuck in a piece of crispy bacon and sprinkle with cheese. Drench in homemade salsa.
Now the fun begins. Fold both edges of the tortilla inward and wrap to close. In the same pan where you heated the tortilla, reheat the burritos on both sides to seal for a crispy crust. You may add oil if you like, but it is not necessary. When burritos are golden brown on both sides, they are ready.
Feel free to eat yourself in to a burrito coma. Yes, they are that good.
If you have any leftovers, you can wrap them individually in aluminum foil and freeze them for an easy on-the-go breakfast. They reheat perfectly in the oven or the microwave. Mmmmm….
More Mexican recipes
Sour cream chicken enchiladas
Classic Spanish rice
Mexican breakfast: Huevos rancheros