Hot Hairstyles
For Busy Moms
Posted on Mar 29, 2012 5:38 AM by Naomi de la Torre
For busy moms on the go, it's hard to find time to scrape the smushed peas off the ceiling, much less find the energy to keep up a trendy hairstyle. But ultra-glam Christy Pereira of Jerseylicious is here with some simple hairstyle tips for busy moms that are both fast and fashionable.
---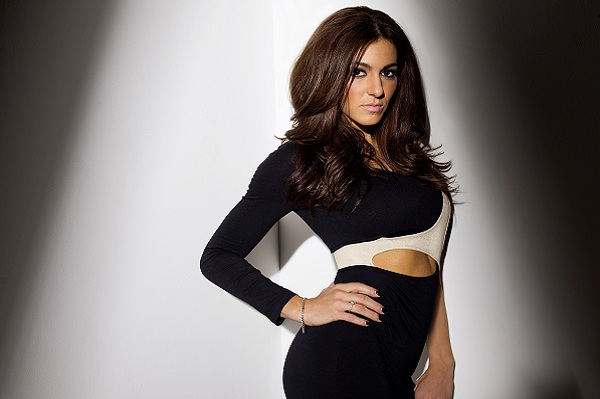 With a 19-month-old baby, Jerseylicious' Christy Pereira is deep in the banana-smeared trenches of motherhood, but she sure doesn't look that way. How does she keep her ultra-glam look?
Christy fesses up, "When you are a mom, the truth is you simply don't have time to spend hours getting ready in the morning. You have to hit the floor running… But that doesn't mean you have to give up looking glam. There are some simple strategies to achieve a sexy, polished look that don't involve spending hours with the blow dryer."
Work with what you've got
Christy recommends embracing your natural hair to decrease the amount of time you spend styling. "Instead of spending hours you don't have blowing out your hair, dress up your natural locks with a trendy headband or other hot hair accessories."
Rock that pony
Good news for ponytail aficionados. Ponytails are back with a vengeance and do not equate to a frumpy look.
"Ponytails are a sleek, stylish way to keep your hair out of your face and you can easily dress them up by wrapping your own hair around the rubber band so you can't see it. Create some volume on top and keep the sides really tight for a super polished look."
Classic bun
This timeless hairstyle never gets old and it's perfect for busy moms because it's fast and easy. You can wear a sleek tight bun like Christy does or try a looser sexy, tousled look. Start with a high or low ponytail and use bobby pins to secure sections in place. Add an elastic headband for a fun, edgy look.
Side ponytail
Your favorite childhood hairstyle is making a comeback and this time it's not just for tween girls. The side pony is rocking the runways because it's flirty, fun and fabulous -- just make sure it is a low ponytail, not a high ponytail. Christy recommends this look most for women with thinner hair because it drapes easily over the shoulder in flowing waves for a romantic look.
Freshen up with dry shampoo
Don't have time to shower? What else is new? Just apply some dry shampoo at the roots of your hair to absorb the extra oil and you'll save an extra day before you need to style again.
Get more Jerseylicious style tricks
Check out this video with glamorous maternity fashion tips from Christy Pereira for preggo mamas.
More beauty tips
Beauty secrets that erase 10 years off your face
4 Fashion tips to look thinner
How to create a smokey eye look