Tiny Plants Make A Big Impact
Posted on Apr 11, 2012 4:24 AM by Naomi de la Torre
Looking for a fun and eco-friendly craft for Earth Day? We've got you covered. Follow our easy instructions and learn how to build your very own one-of-a-kind terrarium.
---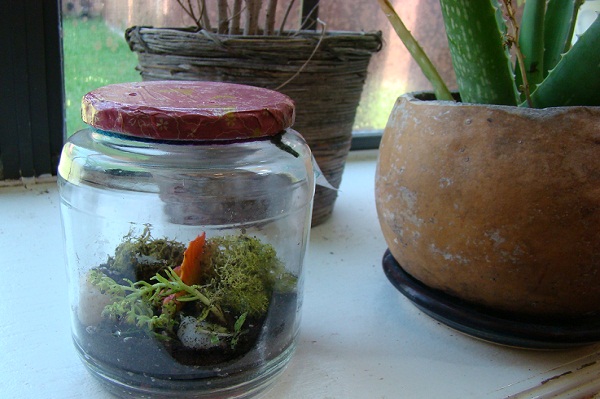 Bring the outdoors inside with this simple craft that you can enjoy all year long. Tiny plants make a big impact when you put them inside a miniature garden. Learn the basics of how to build a homemade terrarium.
Choose a container
You can use almost any clear container with a lid to build a terrarium, but we chose to use an old pickle jar. Remove the paper from the outside and wash well.
Layer with sand and pebbles
Begin by filling the terrarium with a layer of sand and pebbles.
Add activated charcoal
Next you will need to add a layer of activated charcoal which helps to filter the air within your terrarium, prevent molding and keep your plants healthy.
Add potting soil
Now add a couple of inches of potting soil. Regular potting soil will work well because it usually contains a mixture of humus, sand, peat and vermiculite which is perfect for your terrarium plants to thrive.
Arrange your plants
Depending on the size of your terrarium, you may need to use tweezers to gently place plants into the soil. Air plants like tillandsia are a good choice because they get all their nutrients from the air. Mosses like preserved sheet moss and reindeer moss also do really well in terrariums. Other good choices are micro mini sinningia, coleus, sedum, African violets, baby's tears, earth stars, button fern, goldfish vine, miniature peperomia, Swedish ivy, satin pellionia and spotted wintergreen.
Pimp your terrarium
Now the fun really begins! Bring a personal touch to your miniature garden by decorating it according to your unique style. Add beautiful rocks, interesting sticks, pieces of beach glass, marbles and other natural found objects. Little plastic animals can add a fun twist. We added a cute orange dino in ours!
Add a lid
Don't forget to punch a few small holes in the lid of your terrarium to keep the flow of air circulation for your tiny plants. You can also spice up an ordinary lid by decorating it with Mod Podge. We used colorful paper with a swanky design to give our terrarium a funky touch.
Care for your terrarium
The great thing about terrariums is that they are self-maintaining. You need to do almost nothing to keep them going. Keep your terrarium where it gets plenty of light, but don't place it in direct sun. Once or twice a week, take time to mist your little plants with filtered water. Be sure not to over-water or you will risk causing your plants to mold. Your plants will be happiest with a fairly dry environment because they water themselves. Enjoy the beauty of life's tiniest pleasures!
More Earth Day fun
15 Ways to go green in your daily life
8 Eco-friendly gift wrapping ideas
Yummy green smoothie recipes