Posted on Apr 05, 2012 4:31 AM by Naomi de la Torre
Spring into Easter with the cutest cupcakes you'll ever see! These adorable bird's nest cupcakes are so mouthwateringly delish you are guaranteed to give everyone at your party a serious case of spring fever.
---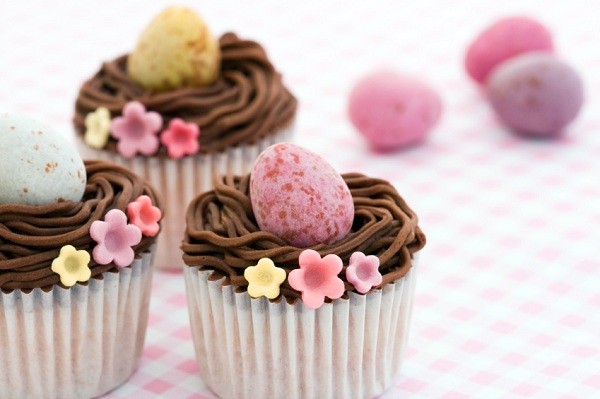 Looking for a festive Easter treat? You can't go wrong with this recipe for bird's nest cupcakes. Simple to prepare but full of flair, you are sure to bring on the sunshine with these creative desserts.
Bird's Nest Cupcakes
Ingredients
For cupcakes
1 cup butter softened
2-1/4 cups sugar
3 eggs
1 teaspoon vanilla extract
3-1/4 cups flour
1 teaspoon salt
3 teaspoons baking powder
1-1/2 cups milk
For chocolate frosting
2 sticks butter at room temperature
1 package (8 ounces) cream cheese at room temperature
1 teaspoon vanilla extract
1 cup cocoa
4-1/2 cups powdered sugar
Candy eggs
Candy flowers
Directions
Preheat the oven to 350 degrees. Line two muffin trays with muffin cups.
In a medium bowl, sift flour with salt and baking powder. Set aside.
In your kitchen mixer, cream butter with sugar and eggs until light and fluffy. Add vanilla extract and mix well.
A little at a time, add flour mixture alternately with milk, making sure to beat well between each addition.
Scoop batter into cupcake tins to 2/3 full and bake at 350 for 20-25 minutes or until a toothpick comes out clean. Set muffins aside to cool.
In your kitchen mixer, cream room temperature butter, cream cheese and vanilla until light and fluffy.
In a large bowl, sift cocoa with powdered sugar.
Begin adding the powdered sugar/cocoa mixture one cup at a time, beating well after each addition.
Use a piping bag with a single hole tip to design the bird's nests. Chill in the refrigerator to harden icing for 30 minutes. Decorate nests with colorful candy eggs and flowers.
More Easter fun
Elegant Easter brunch menu ideas
10 Fun Easter candy alternatives
Easter craft: How to make Mexican confetti eggs