Not Your Mama's Fried Potatoes
Posted on Apr 25, 2012 4:29 AM by Naomi de la Torre
Add an unexpected colorful twist to dinner tonight with this recipe for fried heirloom potatoes. Mmmmmm... They're finger-licking good!
---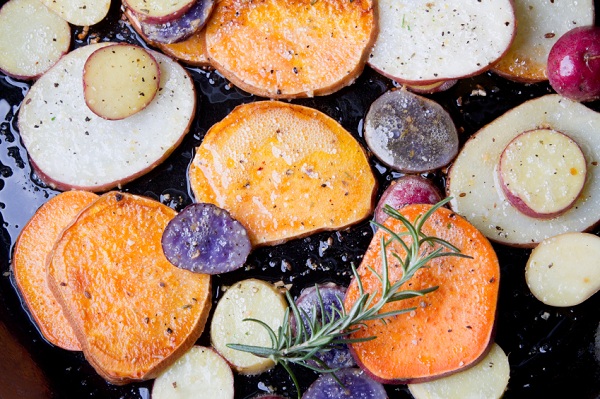 Fried Heirloom Potatoes
At this time of year, you can discover all kinds of delicious and exciting finds at your local farmer's market. Why not add a burst of color to your table with some rainbow hued heirloom potatoes? And the best part? They're not just fun to look at! They have distinctive flavors and are packed with vitamins, minerals and antioxidants. So fill up your plate with a brilliant blast of nutrition tonight with our favorite recipe for fried heirloom potatoes.
Ingredients
2-1/2 pounds of heirloom potatoes
1 tablespoon fresh rosemary
1 tablespoon fresh thyme
1 tablespoon fresh oregano
1 teaspoon salt
1 teaspoon fresh ground pepper
2 cloves garlic, minced
1/3 cup olive oil
Directions
For this recipe, it is really fun to get a colorful mixture of heirloom potatoes. The bright contrast of yellow, red, orange and purple in the pan is fun to look at and tasty too! Check your local farmer's market or natural grocer for a variety mix or you can order a yummy Heirloom Potato Sampler online from Marx Foods.
Begin by slicing your potatoes into 1/2 inch wide circles and set aside.
Chop your fresh herbs and mince your garlic. In a small bowl, combine the olive oil with the chopped herbs, garlic, salt and pepper.
Pour your potato slices into a large bowl and coat with the herbed olive oil mixture.
Meanwhile, have your cast iron skillet heating on the stove at medium heat. When the skillet is piping hot, pour the potatoes in and cook for 15-20 minutes until crispy on the outside and soft on the inside.
Can't spare the space on your range? Another tasty way to prepare this recipe is to roast the potatoes in the oven at high heat. Simply cover a baking tray with parchment paper and arrange the potato wedges on top. Cook at 450 degrees for 20 minutes until crisp.
More yummy recipes
How to make homemade pizza crust in 15 minutes
Delicious chicken tortilla soup
To-die-for nachos recipe